State President Nguyen Minh Triet has praised the achievements made by the Vietnam National Oil and Gas Group (PetroVietnam) but he has also urged the sector to try its best to ensure further development in the future.
"Vietnam's oil and gas industry has been rapidly growing and expanding its operations into other countries, but the Party, State and people hope to see it develop even more rapidly and sustainably," he said.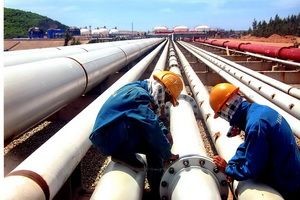 PetroVietnam workers install the pipeline at Dung Quat Oil Refinery in Quang Ngai Province (filed photo)
The State leader made the statement at the group's year-end conference, which took place in Hanoi on Jan. 19, during which he, on behalf of the Party and State, bestowed the title "Labor Hero" on the group and presented other awards to its leaders and subsidiaries.
He said the title and awards were in recognition of PetroVietnam's recent developmental success, transforming it into one of the economy's spearhead sectors and making important contributions to the State budget.
In the context of the uncertainty of the global economy during 2009, the industry should prepare its staff to meet targets and to obtain the best possible results, the President said.
He asked the group to adhere to its traditional aims of ensuring steady future growth and hoped that it would contribute further to the country's development.
PetroVietnam has set a number of important targets for 2009, including implementation of the Government's package of solutions to prevent an economic slowdown, successfully managing a number of power plants, and commencing operations at the Dung Quat oil refinery.
The group aims to post revenues of VND212.5 trillion (more than US$12 billion) and contribute VND61.6 trillion (US$3.5 billion) to the State coffers during 2009.