The real estate market in the lead-up to Tet (lunar New Year) has been sluggish in Hanoi and Ho Chi Minh City, due in part to banks' conservative lending of loans.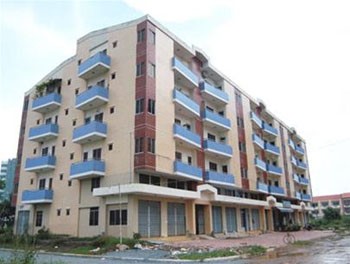 An apartment block for low-income residents in HCM City's District 2. The real estate market in the lead-up to Tet has not seen much action. (Photo: Tuoi Tre)
According to VietRees, a real estate market research company, the cost of high-end apartments has sharply declined.
Since October 2009, dozens of apartment blocks have seen price reductions up to 30 percent over the beginning of 2009.
Real estate experts said the main reason for the dreary atmosphere is that ahead of Tet, banks have lowered or stopped giving loans for real estate investment projects.
Though investors have launched hosts of promotional programs including offering gold bars or cash up to hundreds of millions of dong for apartment buyers, conditions have not improved.
Experts forecast the market will only begin recovering at the end of this year's first quarter at the earliest when banks loosen credit.
Apartment and retail shortage, office surplus
According to CB Richard Ellis (CBRE) Vietnam, a subsidiary of the CBRE group – the world's largest commercial real estate services firm in the US – an abundant office supply in the beginning of 2008 left investors unable to find tenants in the fourth quarter of 2009.
Eleven percent of A-ranked offices, renting at over US$40 per square meter a month, were empty; while for B-ranked offices, 18 percent were left empty, an increase of 3 percent over the previous quarter in 2009.
Rental prices of A and B-ranked offices in the fourth quarter declined by 2.3 and 1.18 percent respectively, compared with the third quarter.
It is expected that there will be 150,000 square meters of new office space in HCMC and Hanoi this year.
In the next two years, more office buildings will also come online including EVN Tower, Keangnam, and Grand Plaza.
With this influx, office rental prices are expected to continue sinking.
In contrast, urban retail space is still high in demand with rental prices forecast to climb in the coming months.
Similarly, medium-priced apartments are also in short supply, leading to high prices of up to $900 per square meter at least.