From the early April on, the price of Robusta coffee has gone down. Coffee prices in Viet Nam dropped to US$1,070 per ton of second-grade beans, a drop by US$80-90 a ton compared to the beginning of March.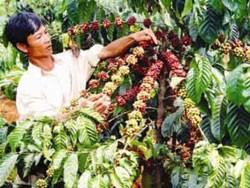 (VietNamNet Photo)
The big coffee exporting countries such as Brazil, South Africa, and Indonesia are in harvest season and providing abundant supplies, resulting in a substantial fall in coffee prices globally. Coffee price is forecast only to increase again in July- August because the world coffee output is down by six million bags (60kg/ bag) compared to the previous season.
Low coffee export prices have resulted in the fall on the domestic market. According to the Trade Information Center of the Trade Minister, first-grade Robusta coffee is down to VND17, 300/ kg, second-grade VND17, 000/kg, bulk coffee VND16, 300/kg in Lam Dong.
Bulk Coffee is sold at VND16, 500/kg. Up to now, coffee prices on domestic market have been reduced from VND1, 000 to 1,800/kg compared to the end of February.
Related Link:
-
Vietnam Coffee and Cocoa Association