The domestic gas enterprises in HCMC said the retail price of a 12kg canister of cooking gas in HCMC will increase VND 1,250 per (included VAT) starting October 1, 2016 equal to VND 15,000 per 12 kg canister.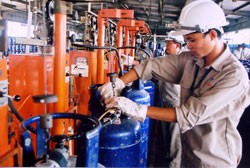 The price of cooking gas increases again
The major gas distributors in HCMC are now selling 12kg cooking gas canisters for VND 274,000 to 275,000 per a 12kg canister.
They said the increase followed the CP price in October reached US$ 355 per ton, an increase of US$ 47.5 per ton compared to last month.