The city ordered nine distributors yesterday to keep the prices of essential goods stable over the Tet holiday (Lunar New Year).  They will sell at lower than market prices by 10 -25 percent.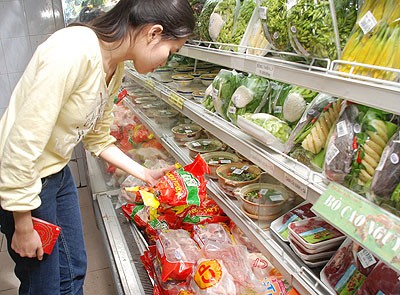 Customers should not worry because distributors have stockpiled enough stocks in advance to meet the increasing demand over the Tet holiday (Photo: NLD)

The Departments of Industry and Trade (DIP), Finance (DF), and Planning and Investment (DPI) held a meeting with Phu An Sinh Food Processing, Vissan, Sagrifood, Ba Huan, Huynh Gia Huynh De, Infoodco, Co.op Mart, Foodcosa and Vinh Phat.
Truong Trung Viet, Deputy Director of DIP, ordered the companies to fix a price lists, ensuring prices will be lower than the market price by 10 percent. Inspection teams will carry out random checks to insure compliance.
Pham Van Minh, director of Phu An Sinh Food Processing, said that around four tons of chickens are distributed to supermarkets everyday. Since January 12, a kilo of chicken can fetch VND60,000 ($3.40), market price VND75,000. 'Special-fed' chicken is sold at VND95,000 per kilo but is VND110,000 on the market.
Chau Nhat Trung, a member of the Management Board of the Huynh Gia Huynh De, said his company will mirror the prices like Phu An Sinh. He added that the wholesale price for ducks is VND44,000 per kilo, it retails VND5,000 less than the market price and costs VND46,000 per kilo.
Pham Thi Huan, director of Ba Huan, said that the price of duck eggs had increased by VND27,000 per box of ten yet promised to sell at VND21,000 and VND16,000 for 10 chicken eggs.
Vissan and Sagrifood set the prices of a kilo of three kinds of pork at VND68,000, VND69,000 and VND74,000, down 10-15 percent compared to the market.
Rice at Vinh Phat and Foodcosa will go for VND7,500 per kilo and VND14,500 for fragrant rice, VND1,000 lower than the market.
Infoodco and Co.op Mart do not make any profits selling RE sugar, with prices ranging from VND9,700-10,000 a kilo. Imported oil will be sold from VND25,000-28,000.

Company representatives said that they will meet demand because they have stockpiled enough stocks in advance.
They are concerned that sales are down 31 percent compared to the same period last year. The businesses should also provide more mobile shops for customers in distant and remote districts.
Vinh Phat, in addition to its retail outlets, has agreed to deliver goods at home.