Price of Japanese purple sweet potatoes grown in the Mekong delta provinces has surged lately because of increased demand of export to China.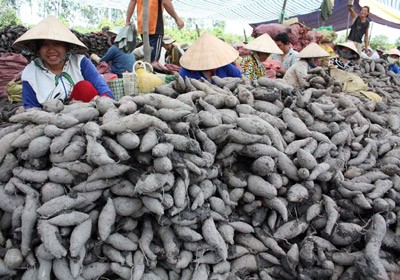 Farmers in the Mekong delta are happy at high price of Japanese sweet potatoes (Illustrative photo: SGGP)
Moreover, prices hiked because the productivity of the sweet potatoes is unseasonable in the Mekong delta provinces of Vinh Long, Dong Thap and Can Tho City.
Traders are willing to pay VND800,000-VND850,000 (US$35.6 – US$37.8) per 60 kg, many times higher than in the second quarter of 2015 which the potatoes costed VND100,000-VND150,000 (US$4.45-6.67) per 60 kg.

Currently, flood water in the region is receding back quickly; hence farmers have started to plant the vegetable in a large field.
However, Huynh Van Quan, deputy chief of Tan Thanh Cooperative in Binh Tan District in Vinh Long Province warned that farmers need to take precaution in widening the field of the vegetable as Chinese market is unstable and prices of the sweet potato often fluctuate without prediction.

Import of sweet potato is an advantage of Vinh Long Province. At present, the province's agriculture sector is promoting export and widening the market to many countries in the world.