The price of paddy in the Mekong Delta has dropped drastically as more areas under rice cultivation were flooded due to continuous heavy rainfall in recent days.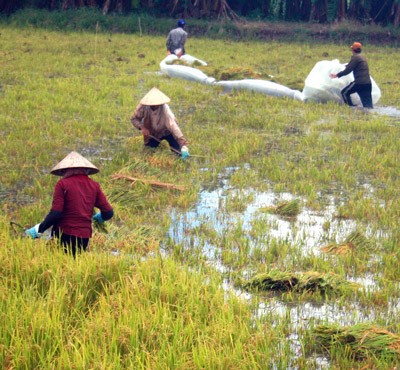 Rice fields in the Mekong Delta provinces flooded due to continuous heavy rainfall. (Photo:SGGP)
Fresh paddy harvested by combine harvesters was bought at around VND4,200-4,250 per kilo while fresh long-grain paddy was bought at VND4,600 per kilo.
As for fresh paddy that was so deeply submerged underwater because of floods and heavy rains, farmers had to harvest by hand, and for which price fell to VND3,500-3,800 per kilo for normal paddy, and to VND4,200-4,300 per kilo for long-grain paddy.
Lam Van Teo, a farmer in Thanh Loc Commune in Giong Rieng District of Kien Giang Province, said that continuous heavy rains have sent several farmers into despair as the cost for harvesting by hand was two times higher than that for harvesting by harvesters. Meanwhile, paddy price plummeted steeply as wet and muddy paddy is out of favor with traders. Under such circumstances, farmers will suffer huge losses.
The Department of Cultivation under the Ministry of Agriculture and Rural Development on September 24 said that farmers in the Mekong Delta provinces have so far grown autumn-winter rice crop on 790,000 hectares.
Farmers in Kien Giang, Vinh Long, Dong Thap, and Can Tho City have harvested about 100,000 hectares of autumn-winter rice crop with an average productivity of 5-5.2 tons per hectare.