Farmers in the Mekong Delta have begun to harvest the winter-spring rice crop, even as price of rice falls further and demand continues to be equally low.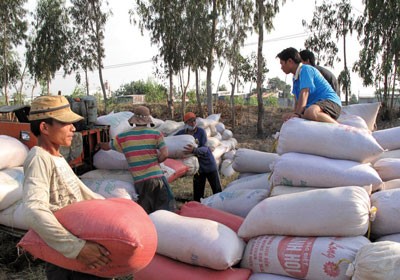 Farmers have begun to harvest winter-spring rice crop in Dong Thap Province (Photo: SGGP)
Price of rice has dropped to an all time low in the last one year, with this affecting the winter-spring rice crop, which is the main crop of the year and one with the highest yield and best quality.
According to local farmers, the price of IR50404 rice is only VND4,300 a kilogram while the long grain variety fetches just VND4,400 a kilogram, a fall of VND800-1,000 in the last two weeks.
One kilogram of fragrant rice gets only VND6,500 a kilogram, a drop of VND700 compared to price two weeks ago. Nonetheless, traders are still not purchasing, also a common phenomena in Dong Thap Muoi area and Long Xuyen Quadrangular.
Local agriculturists say that because there was no flooding all of last year, farmers seeded one month earlier than normal, thus moving harvest time to fall right in the middle of Tet Lunar New Year.
Farmers are hurriedly trying to complete the house as Tet Lunar New Year draws nearer. They need to sell rice quickly to pay off debts and spend some money during the Tet festive season, but traders and businesses have slowed down purchase prior to Tet.
Duong Nghia Quoc, director of Department of Agriculture and Rural Development in Dong Thap Province, said that the winter-spring crop is always the main rice crop of the year. Farmers must earn profits upto at least 50-60 percent to make up for the summer-autumn and autumn-winter crops, and also ensure an average profit margin of 30 percent.
The Government should begin purchasing rice for stockpiling at the earliest, to prevent price from further dropping, he said.
Sharing the view, Le Van Banh, head of the Mekong Delta Rice Research Institute, said that farmers will harvest about 700,000 hectares of rice in the first lunar month, accounting for nearly 50 percent of the total winter-spring rice area. From this, the Government should buy 1-1.5 million tons for stockpiling at soon as possible.
At present, farmers in the Mekong Delta have already harvested 200,000 hectares out of a total 1.55 million hectares of the winter-spring rice crop.