Since the Vietnam Food Association began stockpiling rice, about 20 days ago, prices for the summer-autumn rice crop have not risen but instead fallen in several places in the Mekong Delta.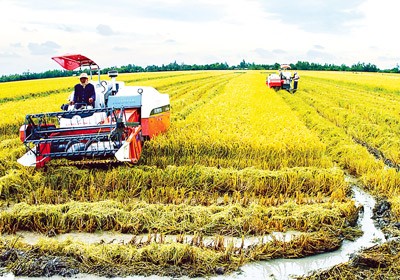 Rice prices have not increased in several places in the Mekong Delta (Photo: SGGP)
Le Thanh Phan, a farmer from Phuong Binh Commune of Phung Hiep District in Hau Giang Province, said that ten day ago traders paid VND4,200 a kilogram on direct purchase from the rice fields.
However traders have now squeezed the price to VND3,700 due to rainy weather. Similar conditions prevail in other districts in the province.
According to the Ministry of Agriculture and Rural Development, the cost to produce a kilogram of rice is VND3,993. Therefore the rice price should be VND5,190 a kilogram to ensure at least 30 percent profit for farmers.
Vietnam Food Association said that dried rice price was fluctuating from VND5,100-5,200 a kilogram last week.
However, most businesses under the association have not bought rice from farmers but from traders, hence prices announced by the Vietnam Food Association will always be higher than what traders pay farmers.