The recent freefall in prices of Mekong Delta fruits, after prices skyrocketed at the beginning of the harvest season in April, has caused severe concern to fruit planters.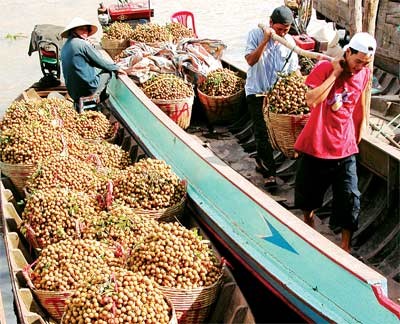 Merchants buy longans from growers in the Mekong Delta province of Vinh Long (Photo: SGGP)
Duong Van Huyen, chairman of Cai Mon Seed Tree Cooperative in Ben Tre Province's Cho Lach District, said traders bought magosteens directly from orchards for VND40,000-60,000 per kilogram, or even VND70,000 per kilogram two months ago, but now the price has dropped to just VND20,000-25,000 per kilogram.
 
Rambutans are in the same boat, with their price plummeting to VND3,000-4,000, down from VND10,000-15,000 per kilogram.
 
Though prices have reduced sharply, Mekong Delta farmers are worried that the trend will continue due to competition of rambutans from Long Khanh Town in the southern province of Dong Nai and Thieu litchis from the North.
 
Ngu Hiep Commune in Tien Giang Province's Cai Lay District, home to 1,257 hectares of durian farms which yield 38,000-40,000 tons per year, has also seen a sharp price decrease.
 
Early on in this year's crop, a kilogram of flat-seed durian cost VND26,000, now it is traded at VND20,000, while a kilogram of normal durian has dropped to VND5,000-6,000, down from VND9,000-12,000 per kilogram.
 
Farmers will face difficulties if prices keep going down in the coming weeks.
 
Lu Van Thien, a farmer from Vinh Thanh Commune in Cho Lach District, admitted that fruit growers have yet to suffer outright losses due to current price decreases, but they certainly are not reaping fat profits due to high farming and labor costs.
 
While Mekong Delta planters are anxious about the repeated situation of "crop comes, price drops," the Southern Fruit Research Institute said prices of Vietnamese fruits are higher than their counterparts in regional countries like Thailand and China.
 
For instance, the institute said, a kilogram of mangosteen costs only VND8,000-10,000 in Thailand.
 
As result, foreign grown fruits have flooded into the Vietnamese marketplace, overwhelming local ones.
 
Dr. Nguyen Minh Chau, the institute's head, said backward farming habits, household production and poorly applied technology has led to high production costs.
 
In addition, he said, many fruits go through many intermediary traders before reaching markets, so while prices are low at orchards, they are very high by the time they reach markets.
 
New methods sought for fruits
 
The Ministry of Agriculture and Rural Development said Vietnamese fruits have a big consumer market and favorable weather conditions to grow. The problem now is how to change farming habits.
 
The fruit sector needs further investment and concentration on developing cultivation models that ensure food hygiene, safety and quality for fruits in accordance with Global GAP and VietGAP standards.
 
Dr. Chau said Vietnamese fruits have a good opportunity to affirm their position but also face challenges from the international integration process.
 
Issues like household cultivation, small produce, diminished quality, improper packing, brand names and promotion have to be tackled as soon as possible, he added.
 
Taiwan (China), he said, has small farming areas like the Mekong Delta, but thanks to a well-applied cooperative model, Taiwanese farmers have been able to produce high quality products and are able to export a high quantity annually.
 
Meanwhile, Vietnam has yet to develop any large areas under one kind of fruit or new cooperative model due to lacking a "conductor", he added.
 
Agriculture and Rural Development departments in Mekong Delta provinces have proposed the Government act as a "conductor" to re-structure cultivation of fruits.
 
In reality, many farmers want to improve their farms and grow fruits according to international standards, but they do not have funds to do so.
 
Dr. Duong Nghia Quoc, deputy director of Dong Thap Province's Agriculture and Rural Development Department, said there are existing scientific treatments for citrus greening disease. However, to apply the solutions effectively, all infected trees have to be cut down, after which it takes three to four years to grow new ones.
 
Farmers have failed to do that since the Government has yet to establish policies to finance such a move, he said, adding that as result, the disease has spread widely.
 
In order to resolve this issue, the Government should order banks to prioritize loans to developing areas that grow only one kind of fruit, and building cold storage facilities to preserve fruits for export, he added.
 
Nguyen Van Khang, vice chairman of the Tien Giang Provincial People's Committee, said the fruit sector needs large investment. The Government's investment in this sector is still small compared to its investment in rice and seafood.
In addition to financing "clean" production, investment also needs to focus on fruit preservation, processing and exportation, he added.