According to Mr. Nguyen Thanh Binh, director of Chau Thanh Seafood Production and Service Cooperative in Dong Thap Province, the prices of pangasius fish fell to VND23,500-VND24,000 per kilogram, down VND5,000-VND5,500 per kilogram compared to the beginning of this year. With the current prices, fish farmers almost have no profit but are only able to break even. As the prices of pangasius fish have continuously declined, fish farming households have been concerning and facing dilemma about whether to continue to invest in pangasius fish farming.

Seafood exporters in provinces in the Mekong Delta said that after a great success in pangasius fish export in 2018 with export turnover of US$2.26 billion, the prices of raw pangasius fish have gradually decreased since the beginning of this year because export has been sluggish and pangasius production remains high so firms are not ready to buy more.
Amid the situation, experts said that fish farmers should be cautious in expanding farming area and avoid massive farming which possibly leads to an excessive supply causing prices to decline further.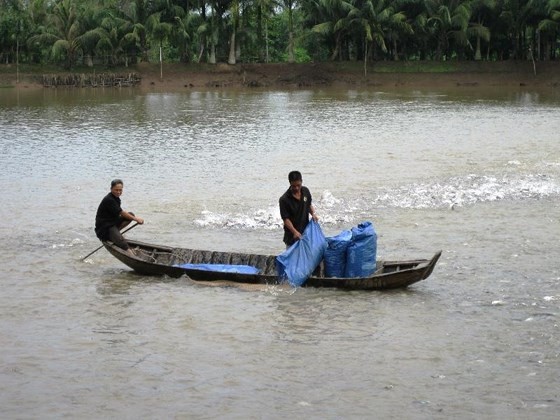 Farmers should be cautious in expanding farming area to avoid an excessive supply, causing prices to decline further. (Photo: SGGP)
Meanwhile, the Ministry of Agriculture and Rural Development said that pangasius fish production will be maintained at around 1.51 million tons this year, up 6 percent compared to the previous year, and export turnover aims to reach $2.4 billion, up 12 percent.
The ministry ordered farmers and firms to apply new technology into pangasius farming and processing, improve the quality of fingerlings and mature pangasius fish, restructure production and traceability and encourage firms to invest heavily in fish farming for sustainable development. At the same time, they should closely watch the weather changes, prevent diseases and strengthen value chains.