As Viet Nam became a World Trade Organization's member, consumers have more choices of vehicle purchases.
But those who have high hope for a better price will be disappointed because the import tax rate of those commodities will not slide down as much as expected.
Chance to Buy a Harley Davidson at a Better Price?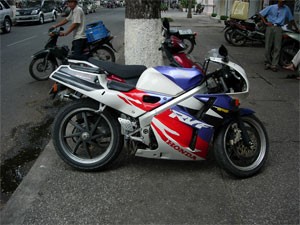 A fancy sport motorcycle is showcased on Ho Chi Minh City's street (Photo: Hoang Uy)
Local vehicle traders will be permitted to import heavy motorcycles with the tax rate of 90 percent after 1st June, 2007.
With that rate, a Harley Davidson XL 883R Sportster, which is being offered online at US$7,695, will be sold at about US$15,400 in the local market.
Similarly, the price after tax of a VRSCA V-Rod worth US$15,995 will be US$33,429, excluding the shipping cost.
The tax rate of this item will fall down to 40 percent after 8 years in line with the government's negotiation for Viet Nam's accession to World Trade Organization (WTO).
However, any local vehicle trader who wants to import heavy motorcycle has to be licensed by the Ministry of Trade. Besides, riders of such large motorcycles must be from 30 to 40 year olds and they have to get a special licence from the Ministry of Public Security.
For the present, too expensive cars and the bad traffic system are bringing local vehicle traders high hope that consumers will opt for motorcycle.
But it seems that local vehicle makers do not take that seriously. Nguyen San, deputy CEO of the renowned Honda Viet Nam, says that consumers still prefer small scooters as their prices are similar to those from other countries.
"In addition, the high price of motorcycle will not be able to tempt consumer. Therefore, I believe that motorcycles will not be booming even when the local market is open for it," he added.
Car Prices: Changing is not as much as expected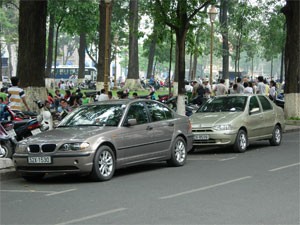 Fancy cars park in downtown (Photo: Hoang Uy)
The current 90 percent import tax rate of automobiles of 2,500 cc (cubic centimeter) engine will be reduced to 52 percent in 2019.
Import tax rate of SUV (Sport Utility Vehicle) will be 47 percent in 2017, while import tax rate of cars which have equal or less than 2,500 cc engine will fall down to 70 percent in 2014.
For large road vehicles like trucks and vans, the import tax rate will be dropped down to 50 percent after 5-10 years.
Asides from that, the import tax rate of car components assembled in Viet Nam will lightly go down from 24.3 percent to 20.5 percent after 3-5 years.
The import tax rate of used car will not be cut down, according to the Ministry of Finance. An official of the Ministry of Finance says the ministry is planning to lower the import tax rate for local car makers.
He also unveiled that the import tax rate of auto components will gradually be increased in order to promote the domestic car industry.
Ultimately, the aforesaid adjustments cannot surely give anything new to the local auto market in the next couple of years. The market will still be under the reign of the Viet Nam Automobile Manufacturers Association.
Nevertheless, the opening of the vehicle market has somehow been putting pressure on local vehicle makers to adjust their pricing to be more reasonable.
Analysts say the local vehicle market will be impacted by many factors including the government's negotiation on cutting down tax rates when Viet Nam joins in the WTO.