Small to medium enterprises represent 90 percent of companies in Viet Nam. It, therefore, is good business for investors to pour their money into this sector.
 
Strengthening economy
 
At a seminar on investing in the private sector, Mr. Ayumi Konishi, country director to Viet Nam of the Asian Development Bank, said in order to strengthen the Viet Nam's economy, the Government should remove limits on the policies and structure of investment for private companies. They should create better financial policies and develop human resources."
 
"Viet Nam's private equity investment market is growing rapidly at its first stage in the developmental process. There should be changes both in depth and width."
 
Regarding the wide change, state-owned small to medium enterprises and state-owned banks should be equitized to have many high-quality stocks listed on bourse. Regarding the deep change, enterprise management and the task of supplying information to investors needs to be improved, he added.
 
Enterprises prefer receiving money from funds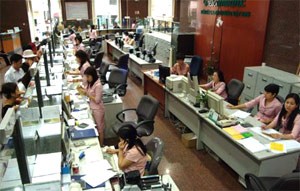 Many enterprises give up borrowing money from banks due to complicated procedures
Five years ago, when enterprises wanted money to expand their businesses, the first thing they thought of was borrowing money from banks. However, many of them had to give up due to complicated borrowing conditions and procedures.
 
The situation is different now, with the presence of investment funds that target the private sector like Mekong Capital, Aureos Capital, Private Equity New and Markets, Vietnamese enterprises have more options.
 
Banks purely lend money while funds not only lend money but also offer advice on finance, business strategies, production management and opportunities to join the global market.
 
Truong Gia Binh, general director of FPT Corporation, said, "The Texas Pacific Group not only helps FPT approach new software clients but also creates good conditions for FPT to penetrate the US market."
 
Last year, the Mekong Capital invested US $6 million in International Consumption Products Company (ICP).
 
Phan Quoc Cong, ICP general director, said, "Cooperation with foreign investors will promote local enterprises' image. Enterprises will also be assisted in recruiting senior staff, and improving management and financial systems."
 
"Their assistance and capital will help companies grow steadily," he added.
 
Is it easy to attract investment from funds?
 
Investment funds don't pour their money into any enterprises. Every fund has its own strategies and investment norms to choose enterprises for investment.
 
In general, profits, growth and market opportunity are what investors care for.
 
In addition, transparence and qualifications of management staff are equally important.
 
ICP is one of a few local companies that uses the auditing services of international companies like Ernst&Young. This is to prove their transparence in financial management, thus it will be easier to have access to funds.