More than 400,000 visitors made their way to the Viet Nam High-Quality Products Fair 2008 at Phu Tho Indoor Stadium in District 10 between April 29 and May 4.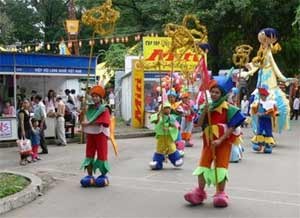 The annual event is organized to honor local high-quality products.  (Photo:TTO)
The fair honored high-quality products in the fields of F & B, home applications, medicine, footwear, cosmetics, garments, and textiles. It involved 300 companies and 1,000 display booths.
The event was a chance for local enterprises to display their products to prospective investors and to consumers in target markets.
According to the organizing board, there 201 memorandum of understanding and 32 contracts were concluded at the festival. The total proceeds during the six-day show amounted to VND42 billion (US$2.6 million).