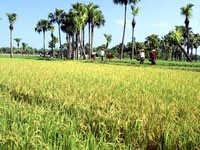 A paddy field in blossom in the Mekong Delta
As many as eight million tons of rice will be harvested in this Winter-Spring crop, says an official from the Viet Nam Southern Food Corporation. The productivity can reach over 6 or 8 tons of rice per hectare. Each farmer can net a cool VND15 million a hectare, much higher year on year.
The paddy field of this Winter-Spring crop rises by 260,000 hectares, which causes an increase of VND520 billion year on year, thanks to good rice seed, estimated the Mekong Delta's Rice Research Institute.
Rice exporters have signed contracts to export more than 1.3 million tons of rice in 2006. Notably, eight Vietnamese food companies won the bid to supply the Philippines with around 350,000 tons at good prices, with deliveries scheduled in the first half of 2006. Even more, Indonesia has agreed to import over 110,000 tons of Vietnamese rice.
Some countries, including Malaysia, regarded as major buyers of Thai rice, have stopped importing rice from this country because of exorbitant prices, and plan to buy it from Viet Nam at lower prices. Vietnamese rice will expectedly be shipped to many markets in the world in March 2006, said the Vietnamese Ministry of Trade.
Related Articles: