Ho Chi Minh City designated September as promotion month to accelerate the consumption of products, contribute to economic growth and attract more foreign visitors to the city for shopping.
Around 600 enterprises and 2,000 shops are expected to join this year's promotion month, said Tran VInh Nhung, deputy head of HCMC Department of Industry and Trade, at an August 2 press conference.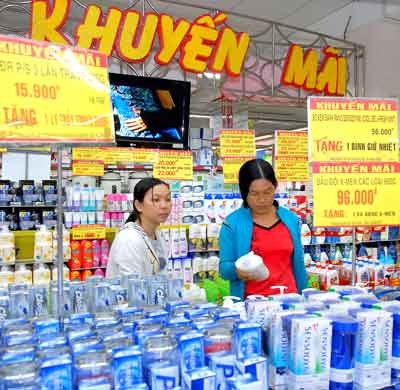 Saigon Co-opwill offer a discount program at 46 shops, which will slash prices from 10% – 50% for around 1,500 items (Photo :SGGP)
So far, 270 firms have registered to join the special month including those that sell textiles, foodstuffs – beverages, household commodities, tourist services, cosmetic products and banking services. 33 commercial centers and 89 supermarkets have agreed to reduce their prices by 5-50 percent next month.
The month will begin with a promotion fair featuring 400 booths, to be held from August 31 to September 4 in the Phu Tho Indoor Stadium at 1 Lu Gia Street, Ward 15, District 11.
Enterprises earmarked VND133 billion for promoting products last year and that number promises to increase markedly this year. Co-op Mart said it would spend VND45 billion for the special month. Two major supermarket systems, Co-op Mart and Saigon Co-op, will offer raffles to entice customers.
The Saigon Co.op Mart supermarket chain's director manager Nguyen Thi Hanh said as the promotion month coincides with the month Vietnamese are encouraged to consume high-quality products made in Vietnam specifically, the chain will offer a discount program at 46 shops, which will slash prices from 10% – 50% for around 1,500 items.
Saigon Co-op and Sai Gon Giai Phong newspaper launched the program "Consumption of green products" to encourage city residents to purchase goods of companies who won the Green Enterprises Competition. In addition, the supermarket will create mobile stores stocked with essential commodities, with prices slashed by up to 30 percent. The discount program will run from August 30 to September 29.
Public concerns have been raised about quality and authenticity prices of goods in promotion month. Mr. Nhung said relevant agencies are now supervising goods of registered companies. Any firms launching illegal promotions that cause damage to customers would face harsh penalties, he threatened, reminding that the other target of the special month is to draw domestic and foreign visitors to the city.
To achieve its goals, promotion month needs to be advertised by media outlets long before it takes place, said Van Duc Muoi, director of Vissan Company.