There are many examples of owners not using the designated green space for its original purpose within District 12 of HCMC. Some notable cases include the An Suong Residence and the 18-storey apartment complex owned by Tin Phong Company in Tan Thoi Nhat Ward.
It was reported that the green spaces within these projects have not been tended to by the owners as parks or gardens should be, thus causing wild bushes and shrubs to take over the areas.
Additionally, there is also a large number of originally vast green spaces that have gotten reduced in size over the year, according to an expert in urban zoning, Dr. Vo Kim Cuong.
"The poor urban zoning and failure to comply with regulations are playing their part in reducing people's physical activities, mental health and general well-being", he said.
By the end of 2018, there have been 491.16 hectares of urban green space in HCMC, accounting for 369 parks and gardens in total, making the average green area 0.49 square meter per person (for a population of 10 million), said Mr. Le Hoa Binh, Director of HCMC's Department of Construction.
Despite the initial zoning area planned for green spaces being considerable, in actuality, the majority of urban projects in HCMC have failed to delivery this, Binh stated. More specifically, districts 12, 9, Thu Duc, Binh Tan, Nha Be, Hoc Mon, Cu Chi and Binh Chanh currently have no public parks.
Explaining this further, Mr. Huynh Thanh Khiet, Vice Chairman of District 2 People's Committee, said the legal basis for fining these investors are simply not available.

"The answer to this would be remedying policies on real-estate projects, particularly urban zoning in order to facilitate legal enforcement regarding green spaces in new urban areas", Khiet concluded.
Currently, there are less than 100 green buildings that meet with international standards across all of Vietnam, according statistics from Vietnam Green Building Council (VGBC).
According to experts, the city should spend about VND100-200 billion (about US$4.3-8.6 million) each year to develop urban green spaces with a goal of at least 10-20 hectares of public parks.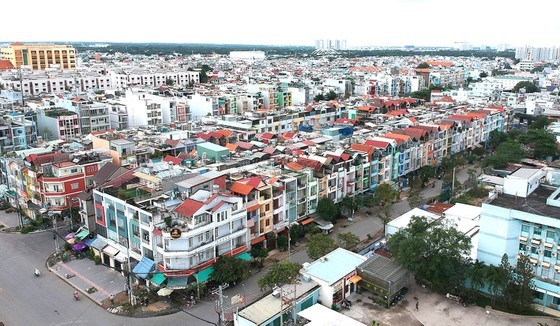 The clear lack of green spaces in a part of District 8 (Photo: SGGP)