Many people have been stunned by the price of nearly VND1 billion (US$50,000) of a low-cost apartment in the new urban zone Sai Dong in Hanoi, which made debut at the end of last month.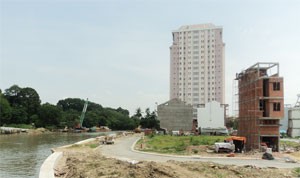 Low-cost houses remain too expensive for low-income earners (Photo: Minh Tri)
The price will see buyers, who have inked agreement to pay by installments in two years starting from this month, are set to pay VND43 million per month – an amount that only rich people can afford.
Low-cost apartments worth billions of dong show that in Vietnam, low-income earners cannot afford a house, while those who can afford have no housing demand, say analysts.
While housing price of developed countries including US and Europe has slumped so far this year due to economic slowdown, Vietnam's has remained expensive.
"The property market in the south slightly decreased by around 5 percent year-on-year in the first half of the year. Property price in the north has even moved up by 1-2 percent so far this year," says Vu Xuan Thien, deputy head of Housing and Real Estate Management Department.
Many property experts say the current frozen market is the consequence of a "too hot" growth and it needs time to cool off.
They also point out that a "too-hot" market significantly benefits speculators only, while residents definitely have no chance to have a house.
"Explicit information and detailed taxes are two factors that can help stabilize the property market. However, the local market lack both," says Dang Hung Vo, former Deputy Minister of Natural Resources and Environment.
"Profit margin of property investments is extremely high, but property tax rate remains too low, almost making no impact on speculation.
"As a result, low-income earners continue to be without a home, while the number of vacant houses and villas keeps increasing."
Vo also says home prices in Vietnam are around 25 times higher than the income of a regular worker. The ratio in other countries is between two and four times.
Analysts say housing cost in the north rose on the increasing input costs and accelerating inflation.
"Property price still cannot decline as land usage and site clearance costs remain high. Builders definitely do not cover those expenses. Therefore they add them into selling price," says Le Hoang Chau, chairman of the HCMC Real Estate Association.
"The high housing price is also compounded by an unstable town planning and the large number of speculators."
Latest reports from the Ministry of Construction show the property market is facing many problems, with prices staying high and speculative activities hard to control.