The property market has hit rock bottom now, what with inventory of apartments taking up 70 percent of the total capital of construction companies, a complete change from earlier scenario when supply was greater than demand.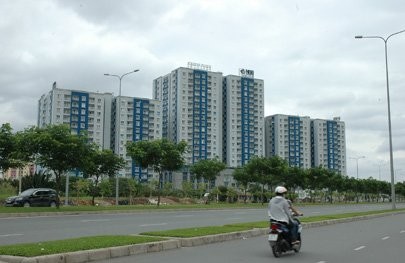 Apartments at Carina Plaza Complex on Vo Van Kiet Boulevard in District 8 in HCMC sold for VND13.2 million per square meter
Once investors depended on bank loans to buy property, but now the lull in the real estate market has frozen demand and no one knows when the situation will revive again.
Not just high-end luxury apartments but all class of real estate is in excess supply with no takers. Real estate companies are living off their existing assets with no signs of growth.
Almost 70 enterprises have just announced their inventory of apartments in the second quarter of the year valued at VND72,405 billion(US$3.1 billion).
For instance, four leading property companies Van Phat Hung, Quoc Cuong Gia Lai, Sacomreal and Investment and Trading of Real Estate Company have reported their business results in the second quarter of the year at VND1,329 billion ($64 million); VND2,846 billion ($137 million); VND2,700 billion and VND1,813 billion respectively.
According to the Ministry of Construction, Hanoi and Ho Chi Minh City have a total inventory of 60,000 apartments. The number of unsold units in HCMC amounted to 20,000 at the end of 2011 while according to real estate consulting firm Knight Frank, the number of new units sold during the first quarter of 2012 were around 1,800, and there will be an additional 23,500 units built in 53 projects over the next three years.
Moreover, only six big companies hold more than 69 percent of cash flow while other enterprises rely heavily on bank loans. Accordingly, enterprises in the apartments segment are facing pressure from banks to repay loans and to cover their other expenses which will force them to sell off houses at reduced prices and dump unsold stock to prevent further losses.
Competition to offer reduced prices by developers in Hanoi and HCMC is increasing despite July (on lunar calendar) being the month when investors avoid buying and selling of any commodities, as the month is considered unlucky.
Carina Plaza Complex on Vo Van Kiet Boulevard in District 8 in HCMC is where sale price is down from VND15.5 million to VND13.2 million per square meter. Hoang Anh Gia Lai Group (HAGL) has broken the rule by lowering apartment prices, compelling others to follow suit.
After two years of buying high-end Hoang Anh Riverview apartments in the upscale Thao Dien residential area in District 2 in HCMC, Dai Tin A Chau Company and An Binh Land have decided to offered price cuts of a shocking 40 percent. They reduced prices on 120 apartments from VND24 million per square meter in 2009 to VND18.5 million today.
In the competition, a director of a property company said some enterprises lost 70 percent of their capital. People now hope the market will pick up again by the end of 2015.
Experts warn that reduced prices of apartments cannot speed up sales, but instead make customers doubt the quality of the building.
The property market has two problems of bad debts and inventory. To solve these, real estate enterprises expect management agencies to allow them to build apartments in smaller areas of 50-60 square meters, valued at around VND1 billion--a price that more people can afford.