The amount of gold currently held by the public in Vietnam is about 500 tons as estimated by the World Gold Council, said Vietnamese senior economics expert Le Dang Doanh.
The PhD of Economics holder said this during a workshop in Ho Chi Minh City Friday on promoting the development of the Vietnamese plastics industry, where he served as a speaker updating economic situations in the world in general and Vietnam in particular.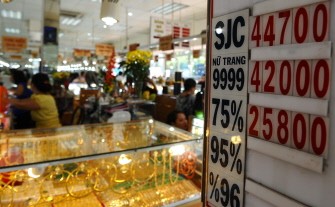 (AFP photo) Up-to-date gold prices are displayed on a board at a local gold and jewelry trading center in Ho Chi Minh City on August 9, 2011
Gold has hit various new record highs following more gloomy data on the state of the US economy and debts of some European countries, said Mr. Doanh, former vice president of the Central Institute for Economic Management (CIEM) of Vietnam. Therefore, investors shift to gold as a safe haven asset.

Gold exceeded US$1,800 per troy ounce in New York on August 10, and went down to around $1,750 – 1,760 August 12.

According to the State Bank of Vietnam, banks in the country currently have about 100 tons of gold deposits.
Gold is a traditional safe haven asset in Vietnam.
On Tuesday, the precious hit a record high of VND46.3 million (US$2,230) per tael, together with strong fluctuations. One tael is about 1.2 ounces.
On the same day, the State Bank announced it allowed the import of five tons of gold as a rapid response to the country's low supply and the world's fast rising gold prices, and to stabilize the market.
The central bank added it may allow another import of five tons of the metal to continue to stabilize the market prevent speculation and manipulation.
Experts advocate the central bank's decision but say that gold imports will not be able to settle the gold fever attack in the long term.