Supermarkets have reported a high increase in purchasing power in Ho Chi Minh City during New Year holidays from December 31 to January 1.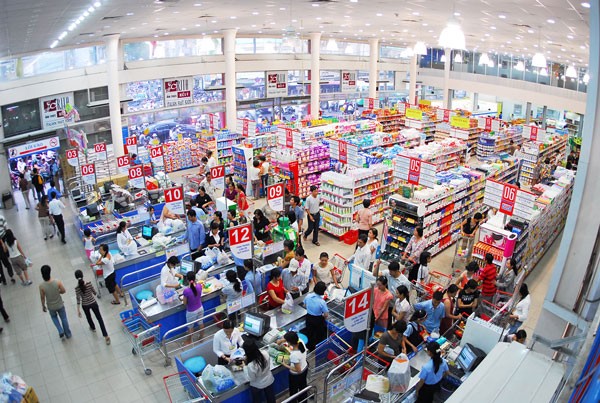 A Saigon Co.op supermarket in HCMC (Photo: SGGP)
Saigon Co.op supermarkets in Ly Thuong Kiet and Dinh Tien Hoang Streets and near Binh Trieu Bridge were seen overcrowded with customers.
The best selling items comprise fresh and dried food, confectionary, beer, beverage and clothes.
According to calculations by the supermarket, the number of customers sharply increased because of the long holiday and many promotional programs covering thousands of items.
Saigon Co.op system's sales were double and triple normal. It was quadruple to beers, beverage and confectionary. Gift baskets priced from VND500,000-600,000 were much in demand.
Similarly, Big C supermarkets reported that purchasing power was half as much again normal with the most chosen items including fast moving consumer goods, processed food, clothes and gift baskets.
Other supermarkets and trade centers such as Aeon, Citimart, Maximark, Metro, Vincom, Union Square and Diamond also attracted a lot of customers.
Right after the solar New Year, most supermarkets have started launching new promotional programs, with thousands of commodities at a discount of up to 49 percent, to sustain the purchasing power from now until the lunar New Year festival in February.
On the contrary with supermarkets, traditional markets were rather quiet during the last New Year days. Purchasing power slightly increased from 10-20 percent to fresh food.
The volume of goods at markets was abundant so there had no price change. Food, vegetable and fruit prices were stable.