In previous years, people started buying goods for Tet Lunar New Year at least a month ahead, creating robust sales and a vibrant market, one that is seriously lacking this year.
This year, despite several promotional campaigns, purchasing power remains stagnant and markets are facing a depression.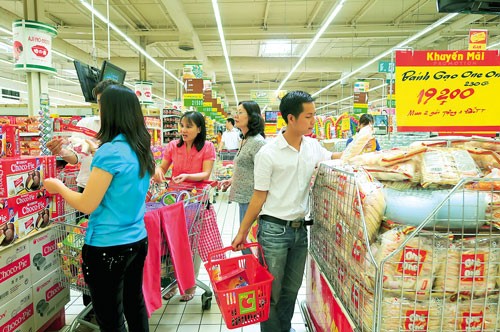 Customers go shopping at BigC Supermarket. (Photo: SGGP)
A survey of supermarkets in Ho Chi Minh City shows that purchasing power in the bigger supermarkets such as Co.opMart, BigC, and Maximark is still doing well but in other supermarkets there is no change.
According to a representative of Co.opMart, sales across its entire network during the first days of New Year rose by 30-40 percent. However, as purchasing power became weaker, this level went lower than in previous years. Consumers mainly go shopping at weekends while on weekdays supermarkets see just a few customers.
Notably, purchasing power at some supermarkets even dropped, including purchasing power for essential foods. Manager of a supermarket complained that this year supermarkets in the City had prepared more goods than last year; however, until now there was no sign of increase in purchasing power so they will probably suffer high inventory.
In order to boost purchasing power for Tet festive season, supermarkets have run various alluring promotional campaigns. For instance, BigC is offering a discount of 5-50 percent on more than 1,200 products; Co.opMart is offering discount of 20-45 percent on household goods and children's clothes. But sales were mainly for fresh foods, processed foods, beverages, and clothing whereas purchasing power for other products has not changed significantly as yet.
Many consumers said that because of the economic slump, they will not buy goods for Tet early and only buy necessary goods instead of spending as freely as before.
Wholesale markets in the City have been experiencing the same situation. Currently, only fresh foods saw strong demand, hence, traders had to offer discount of 50 percent on some produce to clear stocks.
Smaller markets also underwent the same dilemma with demand focusing on foods and foodstuffs while household goods or clothes had few or no buyers. Many traders in Ba Chieu, Thu Duc, Tan Binh markets said that they have not even stockpiled goods for Tet festive season.
Although purchasing power was concentrated on foods and foodstuffs, foods producers worry that it will not climb higher so they will closely watch market movements and draw suitable supply strategy depending on the situation.
In the electronic markets, retailers have run several programs to stimulate purchasing power with the hope of making up on early sales. Many methods of promotional campaign were carried out at the same time to give the lowest price on products to consumers.
Most electronic supermarkets said that purchasing power rose by 50 percent. But in reality, electronic supermarkets still saw very few buyers. Most customers went to Tam Hoan Chau, Ideas, and Thien Hoa electronic supermarkets for window-shopping. With various promotional campaigns, bigger electronic supermarkets like Nguyen Kim and Cho Lon have attracted a large number of customers. However, customers mostly bought inexpensive products with high discount, such as electric cookers and irons while they were not interested in expensive products like mobile phones, notebooks, televisions, and washing machines.
According to Nguyen Van Dao, deputy CEO of Samsung Vietnam, most retailers forecast that electronics would flourish at year end as consumers would increase spending. But as the economy remained stagnant, this seems impossible.
At this time each year, people usually go to fashion shops to buy clothes for the New Year. However, this year, although many shops are offering a discount of 50 percent, they fail to lure customers. Employees of fashion shops in Nguyen Trai Street said that it was their lucky day if they sell five or six items. Sometimes, there are no customers at all, not even for window shopping.
Meanwhile, shopping centers are still highly patronized thanks to their decorations for festive season but most customers were only window-shoppers. In order to promote buying, famous fashion brands also ran various promotional campaigns but purchasing power remains poor.
According to employees of Parkson Hung Vuong, purchasing power has weakened since the middle of this year. In previous years, the center had to add more employees to serve customers.