PetroVietnam member PV Shipyard says it will build the second made-in-Vietnam oilrig in the next few months as the first one has been completed and is ready for delivery.
The parents company –Vietnam National Oil and Gas Group – has appointed PV Shipyard to build another 90-meter jack-up rig for Vietsovpetro and a new tender barge for PV Drilling, another member of the group.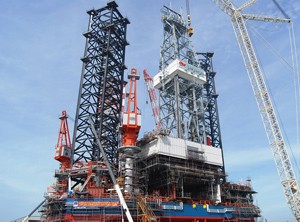 The photo shows the first made-in-Vietnam oilrig at PV Shipyard in Ba Ria-Vung Tau. PetroVietnam is set to launch it on September 9, 2011 (Photo courtesy of PV Shipyard)
PetroVietnam is set to inaugurate the first locally manufactured jack-up rig on September 9 in Ba Ria-Vung Tau Province, where PV Shipyard has built the mobile platform for 26 months. The structure includes blocks, cantilevers, living quarters, the pipe system and a helicopter deck.
A jack-up rig is a type of mobile platform that is able to stand still on the sea floor, resting on a number of supporting legs.
Vietsovpetro is the project owner of the second made-in-Vietnam rig. The Vietnamese-Russian joint venture and PV Shipyard are scheduled to sign the contract by the end of 2011, according to the platform builder.
Meanwhile the tender barge construction project is owned by PV Drilling. The barge is set for completion within 26 months and is later on used by Chevron for upstream oil and gas activities, PV Shipyard said.
Building oilrigs at home is part of Vietnam policy on shifting core mechanical engineering in oil and gas to Vietnamese companies.
Vietnamese Prime Minister Nguyen Tan Dung, during his working trip to Ba Ria-Vung Tau Province in July, came to visit PV Shipyard and examined the building of the first locally made rig.