As the first containers of Vietnam's lychees have been shipped to the US and Australia, the country will continue expanding fruit exports to other markets, such as the EU.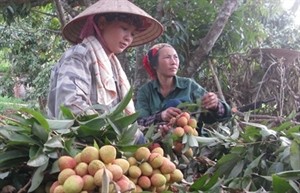 Farmers in Tan Yen district, Bac Giang province harvest lychees (Photo: VNA)
Deputy Minister of Industry and Trade Tran Tuan Anh made this statement at a press meeting in Hanoi on June 1.
Anh noted that it almost took five to eight years to bring fruits and vegetable to world markets. Lychee took 14 years to penetrate the two countries, which have strict quality requirements.
"Vietnam's markets will require further efforts from the country's exporters to build their image and promote marketing activities," he said, adding that the first cargo has also proved the efforts of businesses to seek markets, as well as their struggle to enhance product quality.
However, he said the main lychee consumption of around 200,000 tonnes this year would still rely on the local market and export to China which accounted for 60 percent of the total.
The deputy minister forecast that this year's consumption will be similar or slightly higher than that of last year.
"One of the difficult tasks is to improve the quality of our lychee so that they can surpass certain technical barriers in developed countries," he noted.
The ministry will continue taking measures to encourage lychee consumption by connecting purchasing enterprises with farmers.
Recently, the ministry tied up with northern Lang Son province to build a 143-ha transit area with a total investment of VND986 billion to ease the accumulation of agricultural products at border gates. The area is also expected to improve the export of agricultural products, especially seasonal items.