The management board of Dung Quat Economic Zone and Industrial Parks in the central province of Quang Ngai yesterday afternoon granted investment certificate to Hoa Phat Group to restart Guang Lian Steel-Dung Quat steel project which has been delayed for ten years at Dung Quat Economic Zone.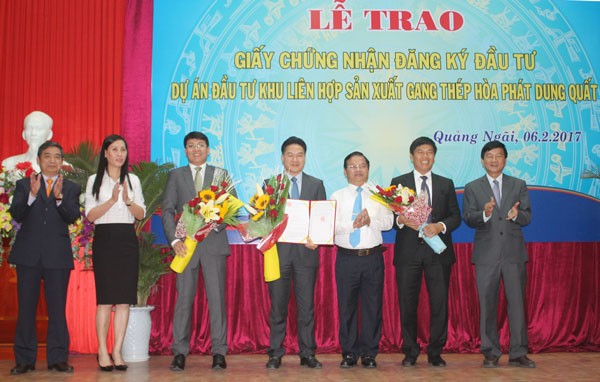 Quang Ngai authorities grant investment certificate to Hoa Phat Group on February 6 (Photo: SGGP)
Hoa Phat steel project is located over 372 hectares including nearly 340 hectares to build a steel plant and 27 hectares to build a specialized seaport with the total capital of VND60 trillion (US$2.66 billion) and capacity of 4 million tons a year. Main products will be structural steel and roll steel.
The project will use closed blast furnace technology under a model which Hoa Phat Group has successfully implemented in the northern province of Hai Duong. This is an advanced, modern and environmentally friendly technology.
Hoa Phat steel plant comprises two phases built in four years. The first phase will produce one million tons of steel for concrete reinforcement a year and one million tons of high quality wire rod. The second phase will make two million tons of hot rolled coils a year to serve manufacturing mechanics.
The project is expected to bring the total revenue of $2 billion a year, provide jobs for 8,000 workers and contribute VND4 trillion ($177.08 million) a year to the state budget after coming into operation at full capacity.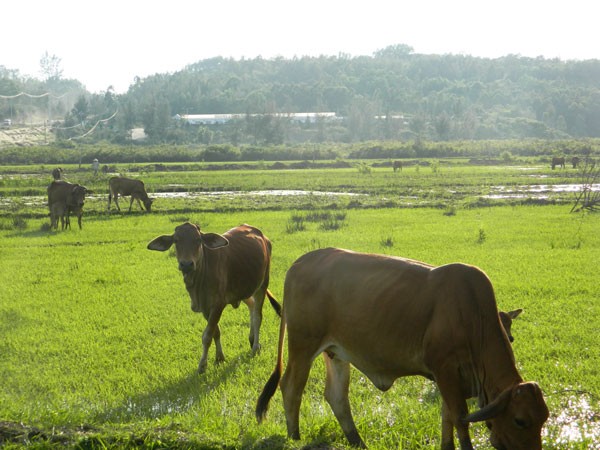 The area where Hoa Phat Group will build a steel plant at Dung Quat Economic Zone, Quang Ngai (Photo: SGGP)
Chairman of the Quang Ngai province People's Committee Tran Ngoc Cang said that the province would create advantageous conditions for the investor to complete the project on schedule.
The project has been restarted from the ten-year delayed Chinese Guang Lian Dung Quat steel project which was revoked in September 2016 and listed in a plan on steel production and distribution development system by 2020 which the Minister of Industry and Trade has approved.
Hoa Phat steel plant's investment policy was approved by the Prime Minister on January 25.