It is the peak harvest time for summer-fall rice crops in the Mekong Delta. However, in the last ten days, flood water levels in the Mekong riverhead have quickly risen. Combined with high tide, the recent rains have caused difficulties for farmers in the region to harvest and dry rice.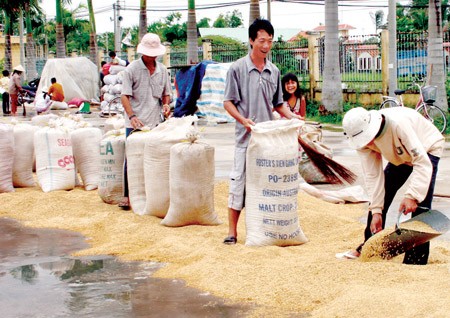 Farmers in Dong Thap Province take advantage of sunny weather to dry rice on the street (Photo: SGGP)
Nguyen Minh Son, deputy head of the Agriculture and Rural Development Office of Vinh Hung District, Long An Province, said that over the last ten days, around 4,500 hectares in the district were flooded.
Unable to use combine harvesters, farmers have to cut rice with sickles. Moreover, there are just a few traders buying harvested rice and are paying a very low price, from VND2,700 to 3,500 a kilogram, which is causing losses to farmers.
Under continuous rains and floodwater, farmers have to make use of the little sun time available to dry rice on streets.
Nguyen Van Thang from Hong Ngu District, Dong Thap Province, said that he had to sell over 30 tons of wet rice at VND3,000 a kilogram in spite of losses, as he could not get much benefit from spending VND200,000 to dry a ton of rice.
"I was more fortunate than many people who could not sell their wet rice," he said.
Shortage of good quality rice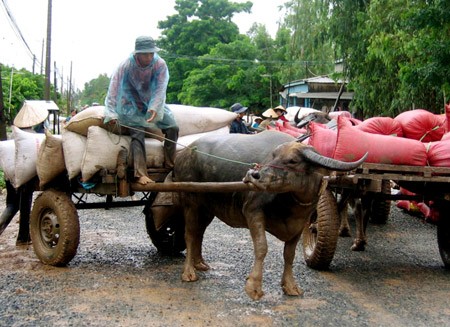 A farmer in Vinh Long Province transports wet rice back home (Photo: SGGP)
At Cai Rang rice market in Can Tho City, many rice processing plants have reduced or even stopped buying rice. They said that the wet weather has lowered rice quality, with the rice becoming musty and broken.
Nguyen Khanh Lon, owner of a rice processing plant, said that he has bought rice from just one in ten boatloads.
Cai Rang Food Storage, part of Song Hau Food, is currently only buying 20 to 50 tons a day. This compares to 200 to 300 tons a day at peak times.
Pham Minh So, head buyer for the warehouse, said that there is not enough good quality rice to buy.
A system of storage is needed
Duong Nghia Quoc, deputy director of Dong Thap Province's Department of Agriculture and Rural Development, said that farmers in the province harvested 80 percent of the summer-fall rice area but have faced difficulties in drying rice.

Le Van Banh, head of the Mekong Delta Rice Research Institute, said that farmers in the region have so far harvested over 60,000 hectares of rice, with a productivity of 4.8 tons a hectare. Meanwhile, drying facilities in the region just meet 30 to 35 percent of demand.
As such, it is necessary to build a system of storage with drying facilities that will buy and dry rice or let farmers hire driers to preserve their rice, Mr Banh said.