Rampant and unchecked sale of unsafe additives and chemicals in food items not only has a harmful effect on present day generations but all future ones as well, hence raising awareness of food hygiene and safety, especially in women, is of prime importance.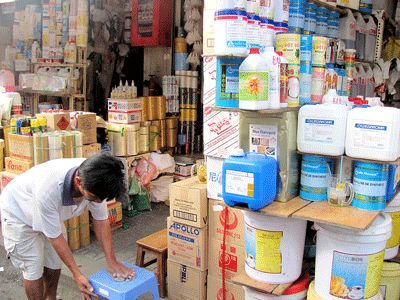 A store selling additives in Kim Bien Market in HCMC (Photo: SGGP)
Tran Thanh Binh, deputy chairwoman of the Vietnam Women's Union, stated this at a seminar held recently in Ho Chi Minh City by the Union and the Vietnam Food Administration under the Ministry of Health.

Because women account for 50 percent of the population and have a predominant role in cooking food and caring for the family, they should have an understanding of food additives so as to protect their family.
On one hand, it is important to discourage female traders not to sell additives with unclear markings and without legal certificates of safety.
On the other hand, the Union should provide housewives with the right information and scientific knowledge about choosing and processing food and encourage them to be bold in denouncing stores that sell unsafe additives and report to market management boards of the same.
Nguyen Thanh Phong, the administration's deputy head, warned that only 5-10 percent additives consumed in the country are manufactured domestically, while the rest are brought into the country by illegal means.
Phong said around 30 percent of additives are smuggled from China into the country, and monitoring is a difficult task.
Luu Thi Kim Nhung, head of Kim Bien Market in District 5, said managers have called for the contribution of about 21 stores to adopt a propaganda campaign to pledge not to sell additives without proper certificates of origin or food safety.
However, traders themselves admit that they are quite innocent of what is safe or unsafe as they have no knowledge of ingredients inside, said Nguyen Thanh Nghia, a trader of additives in Kim Bien Market.
At the seminar, the managing committee of Kim Bien Market in District 5 and local shopkeepers signed a pledge to only sell permitted additives and those with clear origin markings.