After the success of its first convenience food store at the Phan Van Tri apartment building in District 5, Saigon Co-op has expanded to 44 more food stores. Now many convenience food stores owned by other investors have sprung up throughout Ho Chi Minh City.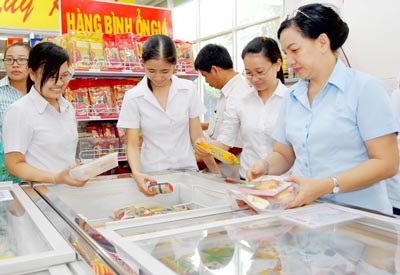 A Vissan convenience food store (Photo: Sggp)
These convenience food stores provide green, clean, fresh and high-quality food for working housewives who are too busy at work and have to also manage a household.
Saigon Trading Group (SATRA) has opened 10 convenience food stores and the Vissan food processing company owns a chain of 87 mini supermarkets.
Additionally, many convenience food stores and showrooms of businesses likely Phu An Sinh, CP and Sagrifood are popping up all over the city.

Vietnam's retail market holds many opportunities for both foreign and domestic investors. Shop & Go is the leading foreign retail business with nearly 70 convenience stores. Circle K invested in 30 stores and Family Mart opened eight mini supermarkets.

Guardian Life Care Private Limited, a retail chain of health and wellness stores has just appeared and become a competitor of Medicare stores, a leading health and beauty products retailer in the city.

Japanese convenience store operator Ministop, a member of AEON Group has cooperated with G7 Service and Trading Joint Stock Company, known as G7Mart under Vietnam's Trung Nguyen Group to open hundreds of stores in Vietnam.

Japan's FamilyMart signed a strategic cooperation agreement with Phu Thai distribution group to open 300 stores from now until 2015.

According to Nguyen Thanh Nhan, deputy director general of Saigon Co-op, the concept of convenience stores has developed suddenly because it does not need a large area or capital investment and is easily accessible to consumers in every nook and corner of the city.

Businesses should invest in the logistics of distribution and provide commodities, as looking for the right premise is also not easy, Mr.Nhan added.

Saigon Co-op plans to open 150 stores by 2015. Vissan and SatraFoods expect to develop their stores into supermarkets providing diversified goods.