With aquaculturists making severe losses in 2008 and many closing down their business, supply of seafood plunged last year, sending prices skyrocketing.
As a result of the short supply, processors and exporters, mainly of shrimp and fish, are unable to source enough raw material, and output is sharply down, Ly Van Thuan, general secretary of the Ca Mau Association of Seafood Exporters and Processors, said.
At the fag end of 2009, 31 shrimp processors tried to step up operation to achieve their year's targets but could not get enough supply, he said.
Officials at Canimex, a fisheries export company, said the slowdown has pushed costs – and export prices – further up, discouraging importers in foreign markets.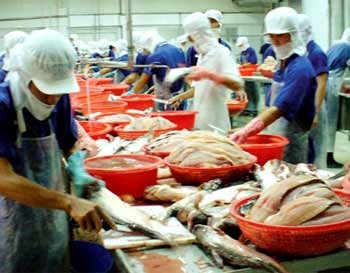 Tra catfish being processed for export at a factory in the Mekong Delta. Aquaculture production has plunged since last year, leaving processors and exporters facing a serious shortage of raw materials, especially of shrimp and fish. (Photo: SGGP)
Most of the processing plants in his province are running at 40 percent of capacity or even lower, and some have had to ask workers to work fewer days, Mr. Thuan said.
The same situation is repeated in many other provinces like Bac Lieu, Soc Trang, and Kien Giang.
Shrimp production has plunged in Bac Lieu because of a 30 percent reduction in breeding areas last year, the local Department of Agriculture and Rural Development said.
The problem would continue until the end of this quarter, the department warned.
Tra catfish processors and exporters in the region are also suffering from the same problem, Nguyen Duy Nhut, deputy head of the An Giang Province-based Nam Viet Corporation, which breeds, processes, and exports fishery products, said.
The company failed to fulfill its export target of $150 million last year and now is operating at half capacity, Mr. Nhut said.
An Giang Province reported a dramatic fall in export earnings from tra last year.
To improve the situation, Tran Thien Hai, chairman of the Vietnam Association of Seafood Exporters and Processors, called on breeders in the region to balance their breeding season better to avoid an extreme supply overhang during the peak season and a serious shortage when the season ends.
Breeders, processors, exporters, and official agencies should work together to expand breeding areas, boost production, and make supply plans, he said.
Deputy director of Dong Thap Province's Department of Agriculture and Rural Development, Duong Nghia Quoc, called for a stop to unplanned production and a focus on large-scale breeding for the region to ensure stable supply and achieve export targets.