Real estate companies in Hanoi and Ho Chi Minh City have begun to slash prices of apartments in the hope of recovering back some of their lost investment, after being landed with high inventory and no hope of the property market recovering soon.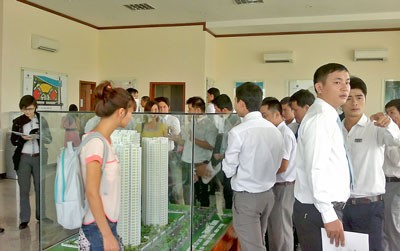 Many potential customers visit launch of HAG's Thanh Binh project (Photo: SGGP)
Hoang Anh Gia Lai (HAG) has recently put up a new apartment complex on sale in District 7 of Ho Chi Minh City, offering 30-50 percent lower rates than other similar projects in the area.
For instance, the Sunrise City condo project, 200 meters further down, sold for VND35 million per square meter while an apartment in HAG's Hoang Anh Thanh Binh ranges from VND21-22 million a square meter, comparatively very low.
The Hoang Anh Thanh Binh condo project located on the beautiful Nguyen Huu Tho Street between Districts 4 and 7, on 1.7 hectares, consists of three blocks with around 1,100 apartments on 37-40 floors.
Each two bedroom apartment is over an area of 73, 82, 114, 128 and 150 square meters.
In order to lure buyers, the company is offering a flexible payment scheme for customers to pay only 30 percent in advance, 40 percent in the next 30 months, and 25 percent at the time of occupancy. In addition, HAG has promised to guarantee a bank loan of up to 70 percent of the apartment value.
In a meeting with reporters on October 3, Doan Nguyen Duc, chairman of the board of Hoang Anh Thanh Binh project, said the selling price was calculated based on the current realty market and customers' financial ability during the current economic downturn.
The company has an advantage that it purchased the land at a cheap price earlier and has its own wood and brick manufacturing and construction company.
In related news, a housing sale week at the HCMC Labor and Culture Palace in the downtown area from October 3-10 was organized by Eden Real Company in a bid to boost property sale activities during these tough times. Some projects are being developed on the city's outskirts, such as Quang Thai, Chuong Duong and An Binh in Tan Phu District, Salam in Binh Tan District and land plots in districts Tan Phu, Binh Tan and the Mekong delta province of Long An.
In addition, a new business style was launched in which customers only pay VND240 million to own a 29-31 square meter apartment in Le Thanh project for the duration of 15 years.
According to a market survey by Savills Vietnam, property firms released more and more apartments in the third quarter of the year, approximately 14,500 apartments from 100 projects. During the last quarter only projects with competitive prices or discounts will be able to lure buyers.
The price average is VND18.6 million per square meter, or a decline of 17 percent over last year. Fierce competition between property companies will eliminate smaller enterprises with smaller capital. Customers in wait-to-see mode will also badly influence the market.