The real estate sector is in the doldrums with many condominium projects on hold while other projects are being launched in the hope that the year end will bring cheer to the market.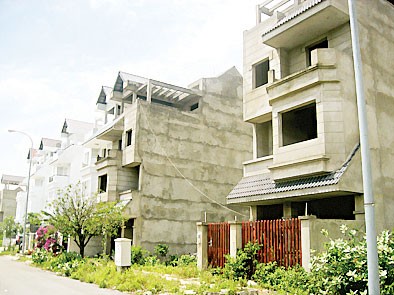 A housing project in District 9 lies abandoned after the investor ran out of capital (Photo: SGGP)
Long lasting losses have however weakened the financial capacity of many enterprises. Last year, Quoc Cuong Gia Lai (QCG) was listed among those groups of enterprises that were suffering losses of nearly VND40 billion (US$1.9 million).
 In the third quarter of this year, QCG continues to see losses to the tune of VND468 million ($22,468).
Last year, the Song Da Company (SJS) announced a net loss of VND71.04 billion and this year the figure has reached VND109 billion; with unsold property valued at VND4 trillion and bank loans now touching VND1,757 billion.
In his report to the State Securities Committee, Pham Van Viet, SJS's deputy managing director, explained massive investments without orientation of the market as the major setbacks in the real estate market at present and the focus on site clearance for important construction works.
Condominium project developers have lowered their prices to lower their inventory. Statistics from stock exchanges in Hanoi and Ho Chi Minh City show that 32 real estate enterprises, construction material companies, steel and construction-related companies have a total inventory valued at VND400 billion.
Unsold condos are valued at VND74,670 billion ($3.5 billion) including bank debt of $7.5 billion. Accordingly, houses in companies' stocks have increased year-on-year.
Doom in realty estate has led to drop in orders for cement, steel and other material for construction. The Ministry of Industry and Trade statistics show that in the first ten months of the year, cement in factory warehouses increased by 51.3 percent or to around four million tons.
There is still gloom in the market and a dreary property market is only helping increase inventory, which leads to freeze in capital, which leads to bad debts. It's just one big vicious circle. It is high time that some solution is found to revive this very important sector.