Real estate related laws such as revised Housing, Real Estate Trading, Investment and Enterprise Laws will take effect from July 1, creating a larger transparent and convenient legal framework for businesses. However experts have pointed out many things that should be done to practice the new policies effectively.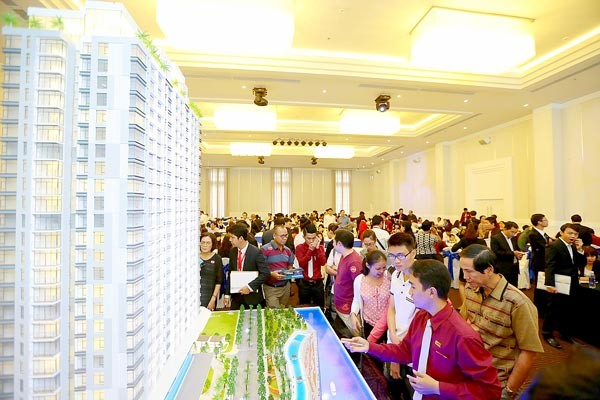 Customers at a housing project in HCMC (Photo: SGGP)
Hung Thinh Construction Company chairman Nguyen Dinh Trung said that new regulations would well assist the real estate market from July. For instance, foreigners can buy houses in Vietnam and investors must be guaranteed by banks to ensure future house buyers' rights.
                        
However, the Government and ministries should simplify procedures and clearly determine responsibilities of relevant organizations and individuals when issuing decrees and circulars on the implementation of these regulations and handling documents for investors, experts said. This aims to get results as expectations.
 
Mr. Trung proposed the Government to exempt investors of done site clearance projects from making deposits for bank guarantee. The deposit rate should be 1-3 percent not total investment capital of a project.
 
Some polices had been issued and considered as a lever to the real estate market. However, they have been implemented sluggishly without effectiveness as expectations such as the VND30 trillion (US$1.37 billion) housing credit package. It has been disbursed too slowly to help low income people have houses due to asynchronous documents on the policy implementation.
 
Director of Le Thanh Real Estate Company Le Huu Nghia said that the property market has recovered but showed new worries. The number of customers has increased 50 percent over a year a go but the supply has also hiked 500 percent.
 
Clear policies and financial assistances to businesses and house buyers were needed to prevent the market from falling into frozen condition in the next couple of years, he said.
 
The HCMC Department of Construction's housing development division reported businesses have marketed 75,000 future apartments since early 2015.
 
Deputy Director of the State Bank of Vietnam in HCMC Nguyen Hoang Minh said that HCMC bad debt has reached VND53 trillion (US$2.43 billion), accounting for 5 percent of total liability. Of these, real estate accounts for 25 percent.
 
The city has set a target to reduce bad debt ratio to 3 percent, meaning many half-done real estate projects, which businesses have invested hundreds to thousands of billions of dong in, must be handled.
 
The HCMC Real Estate Association has proposed the city People's Committee to support businesses to deal with 689 half-done and 85 revoked projects to prevent wastes to the society.
 
It also suggested the committee to consider permitting investors to divide large and unsalable apartments into smaller ones and transfer commercial into social housing or service projects.