Ho Chi Minh City People's Committee Chairman Le Hoang Quan received international property investors from the Asian Public Real Estate Association (APREA) yesterday who came to study the city's investment and planning environment at the City Hall.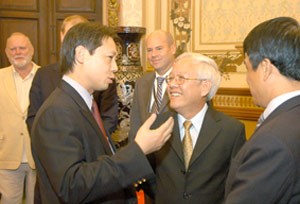 APREA president Alfred H.H.Liu (L) talks with HCMC chairman Le Hoang Quan (C) at the City Hall yesterday
APREA president Alfred H.H.Liu, who led the group, told HCMC chairman Le Hoang Quan that the objective of the delegation's visit to the city was to organize an annual property leader's forum in the city.
The delegation is also seeking to explore real estate business opportunities in the city, he said.

Chairman Quan said the city's real estate market has become more active recently due to a lack of high-grade office space and luxury hotel rooms.

The city authorities are finding ways to raise funds and attract foreign investment for developing three new suburbs in Thu Thiem, Hiep Phuoc and Northwest Cu Chi, adding that the city's core is also being redeveloped into an area of high-grade office buildings and hotels, added Mr Quan.

It is expected that the city will have between 2,000-2,500 luxury hotel rooms by 2015, he noted.

Mr. Liu said that while the group's first visit to Viet Nam has given them a positive impression about the country, they had some suggestions on how to encourage foreign investment in the city's real estate market. First, the city should effectively and publicly put up land lots for auction as well as prepare sites for investors before inviting them in.

Second, the city should find a way to bring more foreign capital into the projects, for example, asking the government for approval to list projects on the stock market, since international property investors are typically more willing to finance them that way.