According to a report by CB Richard Ellis Vietnam (CBRE) on the realty market in Hanoi in the first quarter of April 10, supply increased by 9.6 percent against the same period last year.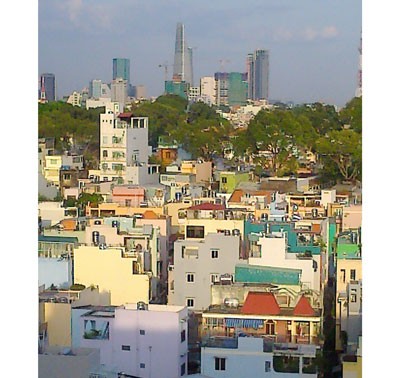 The increase in supply results in slight decrease in price of house (Photo: U.Phuong)
As per the report, most supply was in low-income housing projects while it was far less in the higher-end housing sector. The increase in supply has thus resulted in slight decrease in price. 95 percent of housing apartments cost under $1,000 per square meter.

According to CBRE, investors have been more practical when releasing in the market and downed prices to suit low-income earners.

CBRE also said that buyers maintain wait-and-see mode as they don't trust investors' financial capacity to carry out construction plans as promised.
More importantly, average house prices are now 25 times higher than the average income of a laborer, while this figure is only 7 in the EU, and 6.3 and 5.2 in Thailand and Singapore respectively.

However, CBRE said the retail rental housing market in Hanoi increased by 3 percent in downtown districts while it is down by 11 percent in suburban districts compared to the same period last year.
Positive signs in the market are that the retail rental housing received attention from foreign investors.
At present, AeonMall Vietnam has received business license for a retail project for total investment of $200 million.

In the future, Vingroup still plays a leading role in the retail market thanks to its two projects Vincom Mega Mall Royal City and Vincom Mega Mall City with total area of 437,000 square meters. Vincom Mega Mall Royal City will open next July to become one of the country's biggest commercial centers.