Since early August this year, rice prices in the Mekong Delta have touched record high levels since the last two decades.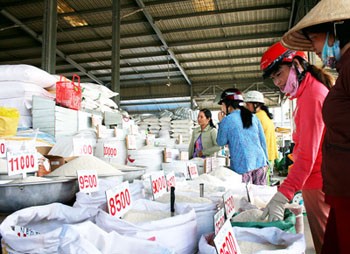 Summer-autumn rice prices hit record high in 20 years (Photo: SGGP)
Traders are offering farmers in the delta region as high as VND6, 300-6,400 for a kilogram of summer-autumn rice.
Dien Van Banh from Phung Hiep District of Hau Giang Province said that this was the first time in 20 years that he has witnessed such an increase in rice prices during the summer-autumn harvest.

This unforeseen high rice demand has led traders to pay as high as VND7,000 per kilogram for winter-spring rice as well.
Farmer Nam Het in Tam Binh District says he has never seen traders buying rice like this before. Many of them are even offering to buy rice before it is harvested!
A kilogram of IR 50404 rice variety is fetching VND6,400-6,500 while a kilogram of Jasmine rice is selling for VND7,000-7,200.
For the last four days, prices have increased each day by VND100 in rice wholesale markets like Cai Be in Tien Giang Province and Cai Rang-Thot Not in Can Tho City.
Tran Khanh Lon, a rice merchant in Cai Rang District of Can Tho City says the rice demand is very high now, thus it is very difficult for them to buy up to 30-40 tons of rice a day as before.
Many businesses in Tien Giang Province have claimed losses as they now have to pay more to accumulate enough rice for export contracts which have been pre-signed already.
An official from Vietnam Food Association said they had warned businesses of this scenario but some still signed export contracts even though they did not have enough stocks.
The association is now closely monitoring the situation as they feel it is not yet time to offer any rice subsidies as yet.