The Ha Noi People's Committee in co-operation with the Ministry of National Defence yesterday, November 23, opened a pontoon bridge over the Hong (Red) River to reroute traffic from Thang Long Bridge which is currently undergoing repairs.
Nguyen Quoc Hung, director of the municipal Department of Transport, said that the 700-metre long and 8-metre wide pontoon bridge with a weight capacity of 60 tonnes would serve all vehicles, except container trucks, for two months.
The pontoon connects Tu Liem District's Dong Ngac Commune to Dong Anh District's Dai Mach Commune.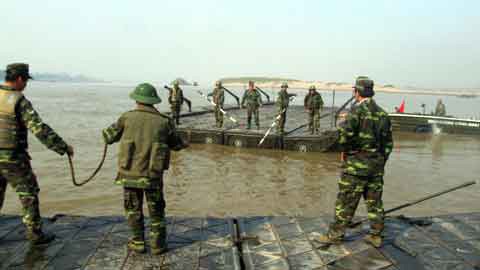 Workers moving pontoons down the Hong (Red) River to where the temporary bridge has been installed at Chem in Dong Anh District's Vong La Commune. (Photo: VNN)
Since the end of October when Thang Long Bridge began undergoing repairs, traffic jams on the approach to the bridge have lengthened to several kilometres, with vehicles taking at least two hours to pass the bridge.
Coaches and trucks are banned from using Thang Long Bridge until after 9pm, forcing them to use other roads, and adding up to 50 kilometres to their journey.
Thang Long Bridge is the only point connecting the city centre to the airport and bus stations and usually sees 20,000 vehicles using it daily, serious traffic jams have had a negative effect on economic life.
Hung said that the pontoon bridge was necessary to lessen traffic congestion.
Colonel Pham Quang Xuan of the Ministry of National Defence said that the pontoon bridge would be able to support around 10,000 vehicles a day.
Ha Noi last employed a pontoon bridge during last year's historic floods