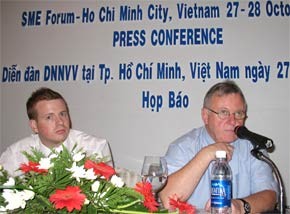 Prof. Robin Jarvis at Tuesday's press briefing (Photo: Tuong Thuy)
Almost 100 business people from regional countries and Europe plus some 500 Vietnamese have registered to attend a Ho Chi Minh City conference on promoting investment in small to medium enterprises (SMEs) in Asia-Pacific, organizer ACCA announced on Tuesday.
The event will take place on October 27-28 at the Sheraton Saigon, said Ms. Nguyen Phuong Mai, Viet Nam country manager of Britain's Association of Chartered Certified Accountants (ACCA).
The conference will discuss the latest tax laws, employment issues and investment opportunities in Viet Nam, learn the importance of making financial reports, and find new investment opportunities, she told reporters at a press briefing.
The forum will feature keynote addresses from ACCA chief executive Allen Blewitt, Ms. Ton Nu Thi Ninh, deputy head of the National Assembly's International Relations Committee, Mr. Hoang Van Dung, first vice president of the Viet Nam Chamber of Commerce and Industry, and other guest speakers.
A message from Mr. Blewitt, transferred to the press briefing by country manager Mai, went: "The forum is important, not only because of changes Viet Nam is undergoing, particularly with the impending likely admission to the World Trade Organization, but also because of small businesses from the overwhelming majority of enterprises in any economy."
Professor Robin Jarvis from Britain, who is in charge of small business at the ACCA, will deliver a presentation on the provision of accounting services for SMEs.

Mr. Ian Lydall, PricewaterhouseCoopers Territorial Senior Partner for Indochina, will draw on his more than 28 years' experience to help delegates in making financial reports.
The organizers of the conference are the Viet Nam Association of Accountants and the Viet Nam Association of Chartered Professional Auditors.
Viet Nam has about 180,000 SMEs now, according to the Viet Nam Chamber of Commerce and Industry. The Government expects the number to increase to 500,000 by 2010. The private sector is currently responsible for about 40% of the nation's GDP.
Related link
ACCA