Many coffee areas in the highland provinces have become old and giving low productivity, but replanting of these coffee areas is proving to be a serious challenge.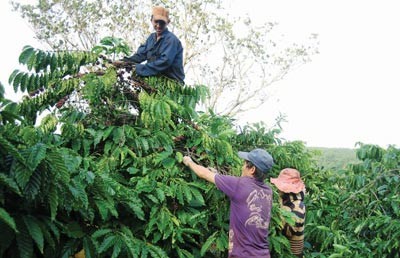 Coffee farmers in Gia Lai Province need finacial support to replant their coffee farms. (Photo: SGGP)
With an area of 450,000 hectares under coffee, the highlands are considered the coffee basket of the Country. However, statistics show that nearly 40 percent of coffee area or more than 120,000 hectares of the plantation are is now old and stunted. This area will rise to about 200,000 hectares by 2015 and to 350,000 hectares by 2017.
In order to deal with this situation, farmers in the highland provinces are considering cutting down old coffee trees to grow new ones; however, this is not proving easy.
Nguyen Van Hai, a farmer in Ia Yok Commune in Ia Grai District in Gia Lai Province, said that replanting coffee trees always faces difficulties as cutting down coffee trees affects farmers' immediate income. Moreover, the cost for replanting, including seedlings, fertilizers, and technology, is worrisome. Calculations show that it costs VND100-160 million to replant one hectare of coffee trees.
Replanting also causes headaches to coffee companies. Nguyen Dai Ngoc, Director of Ia Grai Coffee Company, replanting has many obstacles, especially when most banks have tightened credit. Therefore, the company has just replanted around 100 hectares out of 300 hectares.
According to Hoang Van Cach, Deputy Director of Ia Sao 2 Coffee Company under the Vietnam National Coffee Corporation, the cost for replanting coffee trees is fairly higher than most coffee companies can afford. Hence, commercial banks should consider lending policies to help coffee companies with replanting process.
The Bank for Agriculture and Rural Development (BARD)runs a credit package of VND10 trillion for coffee replanting in highland provinces to soothe pressure on coffee growers. In Lam Dong Province, the lender has so far disbursed more than VND83 billion to more than 1,000 clients to replant an area of 2,362 hectares. Mr Nguyen Van Chieu, Director of BARD in Lam Dong said BARD's loan is to meet with coffee companies' demands. Clients are touching with priority policies.
However, in order to bring effectiveness to the coffee replanting program, besides investment capital, farmers and relevant departments should also resolve related issues.
Nguyen Van Son, Deputy Director of Department of Agriculture and Rural Development in Lam Dong Province, said that control on seedlings should be paid most attention. Currently, there were around 80 coffee seedling providers in the province with registered capacity of 4.6 million of coffee seedlings annually. However, their actual capacity just accounted for 60-70 percent of registered capacity so farmers had to use seedlings with unclear origin and of poor quality.
In addition, replanting should be applied appropriately with conditions of each place, instead of being applied inflexibly in accordance with general process.