Restaurant business has high return rate, but it requires a huge amount of capitals and carries a high risk of losses, owners say.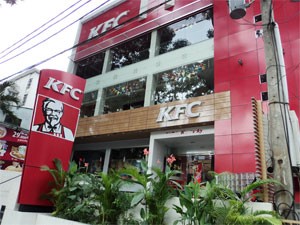 KFC will likely to offer commercial concession deal to local businesses (Photo:Minh Tri)
Duong Duc Dung, director of the Viet Pho Restaurant Ltd., disclosed his restaurant has a return rate of 10 percent per month, which helps recover the initial capital in just one year.
Duong Tan Hoai, director of Ngon & Dep Ltd., the operator of the Ngon Restaurant franchise said "restaurant business makes huge return, but it also carries high risk of losses."
The required amount of capitals for opening a restaurant ranges from VND5 billion (US$250,000) to $30 billion, depending on the location, area and decoration, said a restaurant operator in Ho Chi Minh City.
"If you rent a space to open a restaurant with an annual rental of VND200 million ($10,000), you will have to pay around VND1.2 billion for deposition. Then you will have to spend around VND5 billion more for decoration, furniture stuffs and hiring employees," he said.
He also warned new operators will likely to suffer losses worth up to hundreds of millions of Vietnam dong in the first several month. The cost for marketing restaurant on medias is an average of VND50 million ($2,500) per month, he noticed.
The increasing number of restaurants in town created a fierce competition between them. The Pho 24 franchise reportedly accused the Pho 5 Sao restaurant on Dien Bien Phu Street in District 3 for copying their decoration design.
The harsh competition forces small restaurants to be more creative in customer services, said Ly Quy Trung, owner of the Pho 24 franchise.
Foreign restaurant franchises with an abundant amount of capital and popular brand name also put more pressure on local operators, he added.
Franchise trend
Many restaurant franchises serving Vietnamese traditional foods have made debuts these days. "Thailand has ambition to become a leading food country. Why can't we? Vietnam also has lot of fantastic foods, including pho [Vietnamese traditional noodle], spring rolls and beef noodle," said a restaurant owner in HCMC.
Moreover, many foreign franchises in Vietnam including the US-based fried chicken restaurant KFC, Cocasuki and Breadtalk have planned on offering commercial concession to local businesses.
Marketing professor Philip Kotler said the number of restaurants in Vietnam was increasing steeply, and their quality is being improved strongly, with diversified customer services.
He also valued the country's strong rate of economic growth, which will enable Vietnam to become the kitchen of the world.