Prime Minister Nguyen Tan Dung has approved a scheme to restructure the Vietnam Shipping Industry Group (Vinashin) in the 2011-2013 period to help it stabilise production and operation rapidly after financial problems.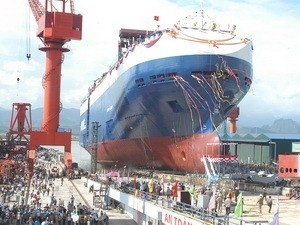 Vietnam News Agency undated file photo shows the launch of a ship built by Vinashin
In the PM's Decision No. 2108/QD-TTg, Vinashin will concentrate on building and repairing ships, developing the supporting industry in service of ship building and repair, and providing skill training for its staff.
With the three major business lines, Vinashin is set to play the core in the ship building and repair industry, which will be a spearhead in promoting the maritime economy and implementing the national sea strategy to 2010 and beyond.
The restructuring process is required to ensure the legitimate rights and interests of the involved investors as well as labourers working at the group.
The group is also asked to exploit and utilise effectively the assets it had already invested/is investing in and try to recover investments it had poured in the areas without connection to its major business lines.
Last August, a steering board was set up in last August to oversee Vinashin's restructuring process with Permanent Deputy Prime Minister Nguyen Sinh Hung as its head.
As by June 2010, Vinashin faced debts totalling 86 trillion VND, while its total assets were worth 104 trillion VND, due to a sudden drop in the needs of the shipbuilding and maritime market in the world following the global financial crisis, and Vinashin leadership's weaknesses and wrongdoings.
The group's leadership made numerous decisions contrary to laws, inaccurately reporting the use of capital for investment, the establishment of new companies, business lines and production performance, and even made wrong decisions relating to the use of investment capital.
Deputy PM Hung said the Government aims to halt the group's losses by 2012 and help it develop in a stable manner by 2015.