Many businesses announced that they would raise their retail prices early this year due to the increases in energy, input costs, stronger dollars and high lending interest rates.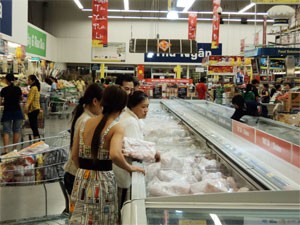 Shoppers pick frozen processed foods at a HCMC-based supermarket (Photo:Minh Tri)
Pork prices at wholesale markets increased by an average of VND10,000 per kilogram, while the retail prices moved up to VND95,000 per kilogram.
Home appliances, beverages and confectionery are 5-8 percent more expensive, while feed cost rose by 2-3 percent.
Building material prices followed a similar pattern, with Ha Tien 1 cement price adding VND7,000 to VND1.56 million (US$78) per ton and Nghi Son price jumping to VND1.57 million per ton.
Cement producers said the 10-15 percent increase in retail price was reasonable as energy costs, which make nearly 50 percent out of the price, are on a rise.
The Vietnam Gas Association announced that they permitted local providers to raise their retail price by VND19,000 for a 12-kilogram gas tank as the global price increased by $42.5 per ton.
The move saw the retail price of gas hit a new record high of VND375,000 ($19) per 12-kilogram tank.
However, the actual price of a 12-kilogram gas tank, which include taxes and transportation fee, amounts around VND264,000 only, according to Dau Tu Tai Chinh Newspaper's estimate.
"The retail price obviously is too expensive, with local providers earning around VND50,000 per tank. And this is unacceptable," said an economist.
Even state-subsidized goods this year are getting more expensive, increasing by 10-25 percent year-on-year, according to a price list of the Ho Chi Minh City Department of Finance.
Among state-subsidized goods, common rice rose VND10,800 per kilogram, cooking oil increased to VND36,000 per liter, sugar moved up to VND22,000 per kilogram, pork leg climbed to VND80,000 per kilogram and chicken rose to VND90,000 per kilogram.
The prices were set at a meeting between the city's two departments - Industry and Trade and Finance – and 22 businesses attending to the price stability program early this month.
The amount of state-subsidized goods would meet up around 20-25 percent of the local consumption this year, said Le Ngoc Dao, deputy director of the HCMC Department of Industry and Trade.
The price stabilization program has participating firms sell essential goods at prices 10 percent lower than prevailing market rates in return for incentives like interest-free loans to stock the listed goods.
Under their price stabilization programs this year, Hanoi and Ho Chi Minh City have so far spent VND400 billion ($19 million), and VND380 billion ($18.1 million), respectively.
The money is mostly given as interest free loans to 28 participating businesses so they can stock and sell rice, meat, seafood, processed food, eggs, cooking oil, sugar and vegetables, at prices lower than in the market.