Profit margin of retailers slumped dramatically in the first seven months of the year, while sales moved up on rising consumer price.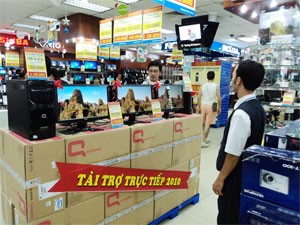 Retailers suffer heavy losses in the first seven months of the year (Photo: Minh Tri)
The Hanoi Supermarket in Ho Chi Minh City's District 1 earned an average profit margin of 3 percent measly in the last three months, says Nguyen Thi Hai, director of a supermarket in Hanoi.
"The margin can cling at that percentage thanks to the support by many suppliers, who agree to defer the due date," Hai told Dau Tu Tai Chinh Newspaper.
The store's sales looks set to drop 20 percent from early this year, while the monthly electricity cost soared to VND130 million (US$6,500) from VND70 million, she says.
Nguyen Thanh Nhan, deputy general director of Vietnam's leading retailer Saigon Co.op, aligns with his counterpart, adding the falling profit margin of local retailers this year is also compounded by the increasing number of promotional packs, which are released to boost the slumping sales.
"Cost of those packs increased sharply by 60 percent year-on-year," Nhan says.
A chief accountant of a local retailer, who asks to be unnamed, discloses that retail sales moved up in the first half on the soaring inflation.
Figures from the General Statistics Office (GSO) indicate the country's consumer price index advanced nearly 14 percent in the first six months of the year.
Retailers are now nervous about the dropping sales last month.
"Nearly 4,000 shoppers visited my store daily in April and May, but the amount plummeted to 2,500 early last month," says a deputy director of a supermarket in downtown.
While sales of basic necessities still increased by more than 10 percent, sales of other products, such as cloths and cookware, dived 20-40 percent, says Nguyen Phuong Thao, director of retailer Maximark.
Statistics from the GSO show that, without adding the inflation, the revenue of the retail sector increased 5 percent year-on-year to VND1.1 trillion ($55 million).
The increase is dramatically low compared to the sector's average growth rate of around 15-20 percent in previous years, according to Dinh Thi My Loan, general secretary of the Vietnam Retailers Association.
Electrical appliance and hi-tech gadget big losers
Sales of hi-tech gadgets and electrical appliance are plunging by 20-50 percent in the second quarter of the year, of which air conditioner suppliers are biggest losers, according to local retailers in HCMC.
"Revenue was still fine in May thanks to a fierce heat. However, in June, we almost sold only several products daily," says a purchasing director of a HCMC-based electrical appliance store.
An owner of a hi-tech gear and gadget shop, who wants to be anonymous, says the shop has incurred a monthly loss of VND1 billion at least so far this year. Other shops say they are at risk of bankruptcy since they did not make profit in the last four months.