More and more retailers in the country are shaking hands with big e-commerce companies in order to widen their businesses while ensuring cost savings.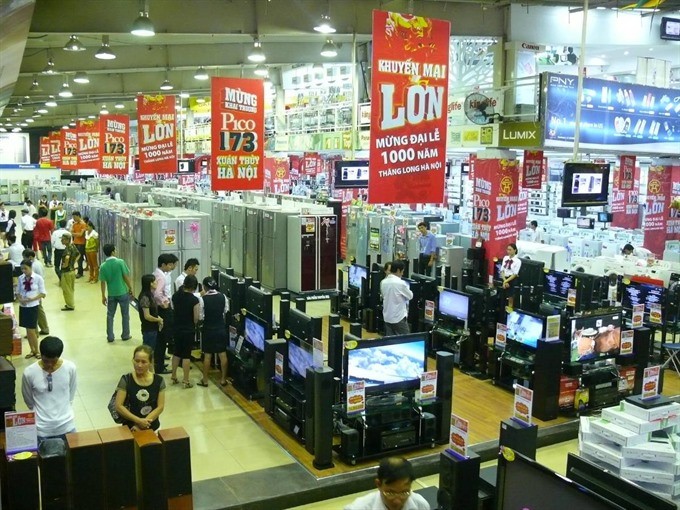 E-commerce is developing strongly in the country, with many websites, mobile applications and social networks currently in operation. — Photo baoxaydung.vn
Experts say that this is an unavoidable trend as e-commerce is strongly developing in the country with many websites, mobile applications and social networks currently set up.
A report from the E-commerce and Information Technology Department shows that in 2016, 34 per cent of companies are selling their products on social networks.
Many traders and shop owners have also developed phone applications, the report said.
In 2014, the volume of websites having phone applications was 15 per cent. It jumped to 21 per cent in 2015.
However, not all retailers, especially the small ones, can afford this investment.
Instead of pouring a big amount of the money into developing websites or mobile applications, traders choose to co-operate with big e-commerce companies as the latter will help them to manage and sell products on their platforms and marketplaces.
The co-operation is a smart choice as it helps them to widen distribution while saving investment costs.
Currently, the biggest online-shopping company, Lazada, has signed contacts with 40 retailers to distribute their products on their website. Lazada said the co-operation would benefit all: consumers, Lazada and retailers.
Alexandre Dardy, CEO of Lazada Việt Nam, said the co-operation would help retailers to widen their distribution throughout the entire country, including remote places, thanks to a strong network.
This was a chance for them to reach 47 million customers of Lazada, he added.
Shopee, a mobile shopping app, has officially been launched and has attracted many shops and retailers.
Last year, Sendo, an e-commerce company, together with Bizweb developed an application, offering a market place for shop owners.
Zalo also launched a service to help shoppers sell their products.
Talking about the effectiveness of the co-operation, a representative of Kid Plaza said his company had 55 supermarkets in the whole country and they now focus on e-commerce.
After three months of shaking hands with Lazada.vn, this company's growth has reached 200 per cent per month.
Nguyễn Hồng Phong, an amateur shop owner who co-operates with Shopee, said he came to the company without previous knowledge in e-commerce.
"With the support of the company, especially Shoppe university, which is a training programme where sellers can pick up key skills, it helped me become a successful entrepreneur with more than 100 orders per day," he said.