Price of both summer-autumn rice and coconut has fallen sharply in the Mekong Delta over the last few days.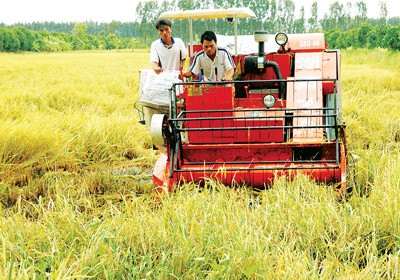 Farmers have begun to harvest the summer-autumn rice crop in the Mekong Delta (Photo: SGGP)
Farmers in the delta have begun to harvest their summer-autumn rice crop but the rice price has fallen by VND300-400 a kilogram compared to last week. The fall in price has slowed down consumption and affected farmers.
Price has dropped to VND4,600-4,900 a kilogram on IR50404 rice variety and VND5,000-5,200 on the long grain variety in Tien Giang and Dong Thap Provinces and in Can Tho city.
Despite low rates, traders are still not coming forward to purchase. Rice processing plants have stopped buying in the last several days due to high stockpiles. 
 
The Ben Tre Province Coconut Association reported hundreds of millions of coconuts still lying in stock.
Since the beginning of the year, export of coconuts and products made from coconuts to the European, Middle East and African markets have met with difficulties.
This has led the volume of coconuts in stock to increase and the price to drop.
 
Traders now pay only VND12,000 for a dozen coconuts, a drop of nearly 20,000-24,000 compared to that a fortnight back.
 
The coconut output in Ben Tre Province has increased by 25-27 percent compared to the same period last year. It is estimated to reach upto 520-530 million coconuts this year.