Speaking at the World Rice Conference in Ho Chi Minh City from October 19-21, Jeremy Zwinger, Chairman of Rice Trader said the demand for rice was increasing globally and rice is set to replace other cereals in future.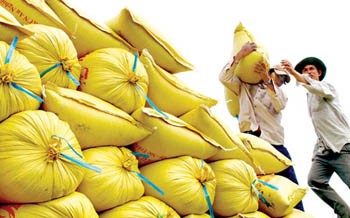 Farmers stockpile bags of harvested rice in the Mekong Delta province of Soc Trang (Photo: SGGP)
According to Rice Trader, rice output from rice exporting countries has grown in the third quarter of this year, opening a new landmark for the rice industry. At present, rice is an important food source in the world. This is a phase which will bring in a lot of changes in the rice industry.
Because of high consumption demand of rice in the world, businesses have paid much more attention to the supply from India, where stockpiles are around 60 million tons.
Nonetheless, rice traders in the world are concerned that India may adjust its rice food policy to reduce or stop export of rice due to food security and pressure from its crowded population.
Korbsook Iamsuri, Chairwoman of Thailand Rice Exporters Association, said that 85 percent of Thailand was submerged under floodwaters, and most of the rice crop has been devastated. The rice industry in Thailand has been severely hit.
Several organizations worry that the rice damaged in flooding could be over seven million tons. However, Ms. Korbsook Iamsuri stated that it was just around two million tons. According to her, this will not affect the country's rice exports as it has reserves of up to four million tons, excluding one million tons in Government stockpile.
The Chairman of Rice Trader warned businesses to estimate rice supply and demand and the competition in the rice industry, to come to realistic and rational business decisions.