The harvesting of 2008-2009 winter-spring crops in the Mekong Delta will be finished come late April. Although most local farmers are happy with a bumper crop and high prices, they still worry that traders will squeeze them. They are looking forward to the Vietnam Rice Association's measures to help stabilize rice prices in the region.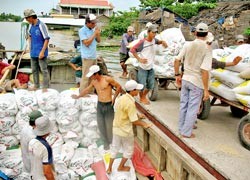 Traders purchase rice for export: Mekong Delta
Dr. Pham Van Du, deputy director of the Growing Department, said that by the end of April, farmers in the delta will harvest 1,050,000 hectares of rice, achieving an output of 9.6 million tons; of which, 3 million tons will be used for food and growing purposes, the remaining for export.

In Can Tho City, farmers have already harvested 42,000 hectares, accounting for 47 percent of total farm area.

Mr. Pham Van Quynh, director of the Can Tho Department of Agricultural and Rural Development, reported that most of the local farmers' harvested rice had been bought by traders at between VND4,100 and VND5,000 a kilo.

After deducting all production expenses, farmers can earn a profit of over 40 percent over gross sales, he added.

Mr. Le Viet Hai, director of Mekong Can Tho Co., said that thanks to the government's VND 17 trillion ($1 billion) economic stimulus package, rice export and processing companies have obtained loans with preferential interest rates to purchase rice from farmers.

Unlike previous crops, many rice exporters and processing companies now have enough funds to sign contracts with farmers, under which, they will advance two-thirds of the production costs to their partners, who are responsible for producing and supplying rice to them in return at prices five percent higher than market prices.

In 2009, Vietnam plans to export between 4.5 - 5 tons of rice. From the beginning of the year until mid March, exporters have signed contracts, under which they will export some 3.6 million tons of rice by June. One million tons were exported in the first two months of the year.

Despite the current favorable situation, the Vietnam Food Association has recently requested exporters to slow down rice exports, saying that it will only allow exporters to register rice export contracts that have delivery periods from July to September, as the country has to strengthen policies on food security.

Protests from many rice exporters have been raised against the association' decision, saying that it is unreasonable and that there are problems in the current management of rice export quotas.

According to rice exporters, the association is responsible for managing rice exports but at the same is also an exporter that directly exports rice through its member businesses.

It is the overlap between the association's duties and its own interests that probably leads to problems in the allocation of quotas to rice exporters, they said.

They pointed out that a number of exporters who do not meet minimum requirements, for example, not having a processing plant, purchasing system or storehouse have been granted with big quotas while many qualified exporters are only entitled to small quotas.

They emphasized that an exporter having a quota of exporting 1,000 tons of rice can easily earn a fat profit worth hundreds of million dong by selling it to another.

It is advisable the association listen to opinions from rice exporters to improve its management of export quotas.

Qualified rice exporters should be given favorable conditions for exporting rice at their fullest capacity as this is one of many positive steps to help stabilize prices in the Mekong Delta.