Viet Nam has sufficient rice to meet the export target of 4.5 million tons this year, an inter-ministerial meeting was told on September 19.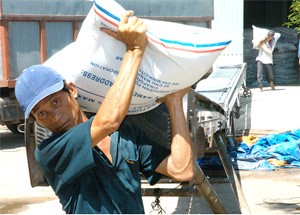 Saigon Satake Food Company staff carry rice bags from a warehouse to be shipped abroad (Photo: SGGP)
Officials from the ministries of Agriculture and Rural Development and Investment and Trade said the Mekong Delta region alone had harvested 4.6 million tons of rice this crop year.

Food companies and farmers have 841,000 and 400,000 tons or rice in stock respectively, and some of this has been saved for export contracts, they said.

The meeting was held to discuss ways to manage the supply, demand and prices of rice in order to ensure that the export target was met.

The Viet Nam Food Association says 3.38 million tons of rice had been exported as of August this year.

Officials from both ministries expressed confidence that it was possible to meet the Government's 2008 rice export target although there were only a few months left in the year.

Deputy Prime Minister Hoang Trung Hai said the management of rice export prices should be flexible, and requested the trade ministry to create favorable conditions for rice exporters.

The State Bank of Viet Nam was asked to apply appropriate credit policies in order to ease the difficulties that rice exporters were facing.

Food companies had responded to a prime ministerial directive in early August by buying more rice from the farmers, trying to expand their traditional export markets and seeking new ones in order to use up huge quantities of unsold stock left with farmers after the harvest.

Given the trend of increased global demand in the last months of the year, favorable conditions existed to boost rice exports, said Lam Van Quy, director of the Can Tho Food and Export Company.

He noted that there had also been an increase in export prices from US$600 a ton last month to US$660 this month.

The resultant increase in rice prices in the Mekong Delta has been a welcome development for farmers hit hard by a fall in prices below their production costs, and large quantities of unsold stock.
The current prices of rice in the delta are VND4,550-4,850 per kilogram, compared to VND4,000 per kilogram earlier this month.