Vietnam exported over 3.8 million tonnes of rice, raking in US$1.6 billion in the period from January 1 to August 31, showing considerable drops in both volume and value over the same period last year.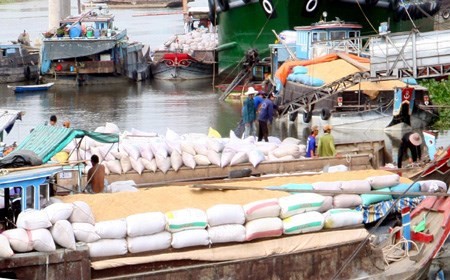 Rice bags are loaded onto a ship in the southern province of Dong Thap (Photo: VNA)
In the same period of 2014, the country shipped more than 4.2 million tonnes of rice and grossed over $1.8 billion, according to the Vietnam Food Association (VFA).
Vietnam is the only one among the five biggest rice exporters in the world to record a decrease in the period.
On September 9, the Philippines' National Food Authority (NFA) invited Vietnam, Thailand, and Cambodia to join a tender to supply 750,000 tonnes of rice, in addition to the planned import of 1.8 million tonnes of rice this year due to El Nino impacts.
This can be a good opportunity for Vietnam to boost rice exports in the remaining months of this year.
The prices of rice in the Mekong Delta, Vietnam's largest granary, have dropped slightly from last month.
As of September 11, Mekong Delta provinces and cities have harvested summer-autumn rice on nearly 1.3 million hectares of land with a total output of 7.34 tonnes of brown rice. The localities have also planted summer-winter rice on 640,000 hectares out of the planned 886,000 ha.