Rice exports fell in both volume and value terms in the first half of this year, the Vietnam Food Association has said.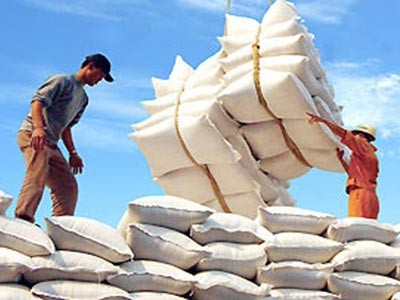 Loading rice for export in the Mekong Delta
Exporters shipped 3.4 million tonnes for a free-on-board (FOB) value of 1.5 billion USD, a reduction of 15.1 percent in value and 12.7 percent in quantity.
Speaking at a meeting held in Ho Chi Minh Cityon July 5 to review rice exports in the first half and draw up plans for the second, Pham Van Bay, the VFA's deputy chairman, said the average price was 458.9 USD per tonne, a year-on-year decrease of 13.03 USD.
China was the largest buyer, followed by Africa and the Philippines , he said.
High-grade rice accounted for nearly half of the shipments – a 52.6 percent increase – as Vietnam took advantage of the higher prices of Thai rice to boost its own exports, he said.
India 's resumption of export and the entry of Myanmar into the low-grade variety market shrunk the market share of Vietnamese low-grade rice, since they both offered low prices.
VFA chairman Truong Thanh Phong said since export of low-grade rice is set to become harder, authorities should persuade farmers to reduce cropping of these varieties.
Bay said both the Food and Agriculture Organisation and the US Department of Agriculture have forecast global output to outstrip demand this year.
"With the fierce competition that will bring, prices are unlikely to harden during the rest of the year," he said.
India will continue to sell at low prices to reduce its large stockpile, he said.
Because of its higher prices, Thailand has accumulated a large inventory, and there will be pressure on the country to liquidate it, he said.
Deputy Minister of Industry and Trade Nguyen Thanh Bien said if Thailand slashes prices to boost exports, it will be a big hurdle for Vietnam 's rice exports.
He urged the association to keep a close eye on global developments and its members informed.
He urged exporters to promote the Vietnamese rice brand in the global market.
Delegates at the meeting agreed that China will continue to be a key export market for the rest of this year, but warned that there will be payment risks attached to that market.
They hailed the setting up of a trade promotion centre in China , saying it will help resolve issues related to export.
The Republic of Korea and Japan are promising markets for Vietnamese rice said, Le Tuan, director of the Vinh Long Import-Export Joint Stock Company.
But they set the quality bar very high, he said.
So, to find new markets for Vietnamese rice, enterprises should work with farmers to produce rice that meet the two nations requirements, he added.
Vietnam targets exports of 2.3 million tonnes in the third quarter, including 800,000 tonnes this month