Truong Thanh Phong, Chairman of Vietnam Food Association (VFA), stated at a meeting in Ho Chi Minh City that Vietnam intends to export 6.5-7 tons of rice this year.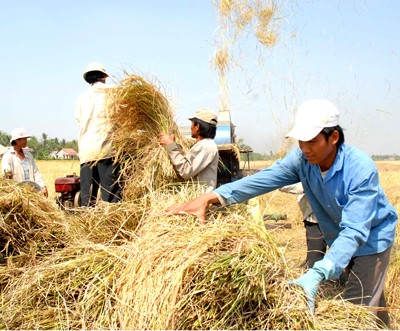 Vietnam will export 6.5-7 tons of rice in 2012. (Photo: SGGP)
Many firms have signed contracts to export 1 million tons of rice in the first quarter of this year. However, with the delivery date extended to August instead of the first quarter, concerns have been raised that rice exports in the first months would be lower as compared to the same period last year.
Nevertheless, the end of the second quarter will be the toughest period as fragrant, high-quality and medium-quality rice markets might be lost to Thailand because of Vietnam's higher prices.
Meanwhile, the low-quality rice market sees fierce competition from India. Vietnam is likely to lose 20 percent of a total 23 percent of the market share in Africa. Thus, rice exporters are expected to keep its traditional market in Asia, which accounts to 67 percent of the country's rice exports.
VFA has planned to buy rice for temporary storage when the local paddy prices go down, to prevent prices from falling below VND5,000 per kilogram.
Earlier, Nguyen Thanh Bien, Deputy Minister of Industry and Trade, said that VFA needs to focus on the commercial market instead of depending on the common market. He also ordered VFA not to lower export prices to ensure profits for farmers and to penalize firms that sell rice at unregistered prices.